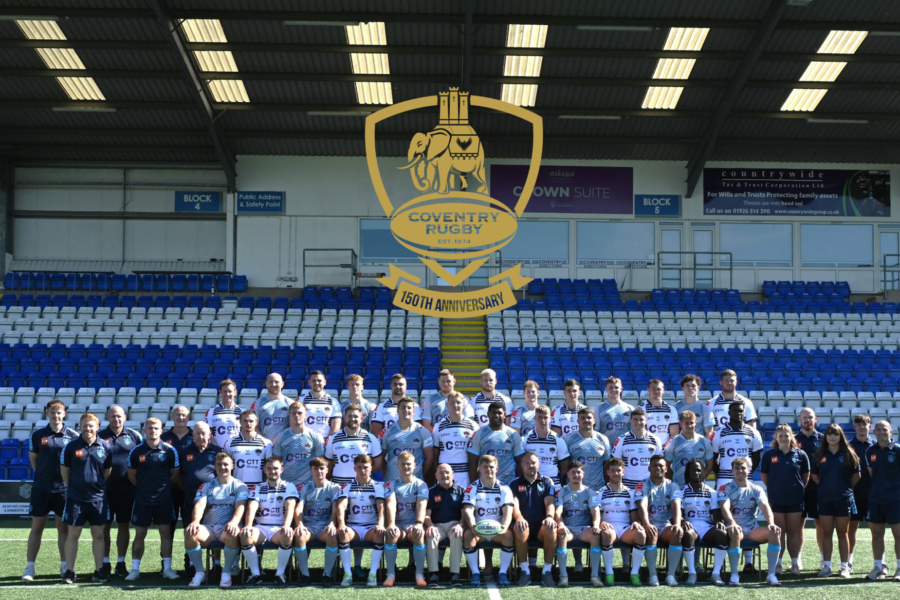 Since 1874, Coventry Rugby has been at the heart of the city. Throughout the 2023-24 season, we're proud to be celebrating 150 years of Coventry Rugby, and we'd like you to join us.
Come and mark this momentous sporting anniversary with a series of special events and matches taking place throughout year – and the opportunity to become a privileged 150 Club Member – all in the True Blue spirit of Coventry Rugby!
150 years of sporting achievement
Coventry Rugby is one of the most historic and storied clubs anywhere in world of rugby.
From its unlikely beginnings, which saw the first organised game of Rugby Football to be played in Coventry in 1874 by members of the Stoke Cricket Club, Coventry Rugby has given rise to some of the greatest players the sport has ever seen.
In the mid-1920s, we celebrated countless wins during our first 'golden era' and produced six England internationals as well as playing a part in the early Warwickshire success in the County Championship.
In the 1970s, no fewer than 11 England players represented Coventry on the international stage, which remains a record for any English club. In the same decade, we provided 10 players to the British and Irish Lions.
It hasn't always been plain sailing for the club, with financial struggles and a battle against relegation among the challenges we've faced. But through the highs and lows of the last 150 years, the spirit of Coventry Rugby and its supporters has remained steadfast and strong.
A club on the rise
Since our promotion into the Championship in 2018, we have gone from strength to strength.
On the pitch, our playing pathway is giving rise to even more talented young players who are taking on – and beating – the best in the league. In the city, we have exciting plans to develop our facilities to provide financial security, more housing, and more jobs for local people – all fuelled by our ambition to be a club for Coventry's community.
The 'Cov Dog' is back, and the legendary atmosphere that made Coventry a feared place for opposition teams to visit roared the team into the 2022 Championship Cup final – our first final in nearly 40 years!
We are starting this very special 150th anniversary season as a well-established, top-four league team, putting Coventry firmly back in the country's best 15 teams.
Alongside the trophies, wins, and sporting achievements of the last 150 years, the 2023-24 season is set to be a celebration of what Coventry Rugby stands for – teamwork, discipline, sportsmanship, enjoyment, and respect.
Here's how you can be a part of it…
150th Anniversary Celebration Events
Thursday 7 September 2023 – Official Launch Evening, Butts Park Arena, Coventry
The evening will consist of an introduction to the 150-Year Anniversary plans, networking amongst current sponsors, and a panel discussion with Club Directors and Head Coach, Alex Rae. This event is for invited guests only plus 1.
Saturday 4 November 2023 – 150 Year Firework Extravaganza with PINK Tribute Act, Butts Park Arena, Coventry
A dazzling display and evening's entertainment open to the public (Ticket price: Adult £10, Child £5, Family Ticket £25 – 2x Adult and 2x Child).
Friday 10 November 2023 – Celebratory Launch Dinner, Butts Park Arena, Coventry
An evening of wining and dining, fundraising and entertainment. Hosted by David Kurk with Andy Goode as guest speaker.
Ticket price: £80+VAT pp
Tuesday 26 December 2023 – Coventry 150th Year Anniversary Game, Coventry Rugby v Nottingham, Butts Park Arena, Coventry
Showcasing the brand new 150th Coventry Rugby shirt, this promises to be a momentous game on home turf not to be missed
*Friday 9 February 2024 – Coventry Rugby Shoot, Honesberie Shooting School, Southam
Join us for a day of top-class shooting at Honesberie Shooting Ground, a family-owned 40-acre farm on the borders of Warwickshire, Oxfordshire and Northamptonshire. Full clay and game shooting instruction provided in an idyllic country setting. 5 people to a team.
Cost: £400 + VAT pp
Contact Toby Trinder – ttrinder@coventryrugby.co.uk for details.
Saturday 16 March 2024 – Six Nations Dinner, Butts Park Arena, Coventry
Enjoy a 2 Course Gourmet Buffet while watching France v England, with a bucket of beers for the table. Hosted by Rugby VIP with a Pre-game Q&A. 20:00 Kick Off
Ticket price: £45pp + VAT
* Thursday 16 May 2024 – 150th Anniversary Golf Day, Coventry Golf Club, Coventry
Join us at Coventry Golf Club for 18 holes on one of the finest courses in the Midlands. Enjoy a bacon roll, tea, and coffee on arrival and receive your exclusive Coventry Rugby branded polo shirt, sleeve of balls, and cap.
Once you've finished your round, join us upstairs in the clubhouse for a chance to mingle, followed by a 2-course meal and a presentation as well as raffle prizes.
Bring a team of 4 or come with a team of 3 and have one of our rugby players join you!
This event is open to all and not included in the 150 Club.
Ticket price: £600 + VAT
Friday 17 May 2024 – End of Year Awards Dinner, Butts Park Arena, Coventry
Come and celebrate the closing of what we know will be a truly momentous 150th Anniversary season for Coventry Rugby at our End of Year Awards and Gala Dinner. This event is open to all and included in the 150 Club.
Ticket price: TBC
Show your devotion to the club as a True Blue supporter by joining Coventry Rugby's 150 Club
To commemorate the club's very special 150th Anniversary in the sport, we're excited to offer you the chance to join the 150 Club, an elite season package, carefully curated for the ultimate Coventry Rugby supporter to mark this historic event.
The 150 Club gives members priority access to the club's celebratory events, a selection of exclusive, limited edition Coventry Rugby memorabilia, and the chance to be a part of club history, with your name etched onto our 150-Year Commemorative Anniversary Plaque.
The 150 Club package includes:
A Limited Edition 150th Year Anniversary Coventry Rugby Club Shirt
A 150th Year Limited Edition Coventry Rugby Sekonda Watch
150th Year Commemorative Coventry Rugby Badge
Bottle of Anniversary Coventry Rugby Gin
2 x Tickets to Coventry Rugby's End of Year Gala Dinner
Exclusive access to player Meet and Greet events
Your name engraved on Coventry Rugby Club's 150 Year Anniversary Plaque
Don't miss this unique opportunity to play a part in Coventry Rugby's rich history and capture the essence of the club's 150 years in rugby – the greatest team sport in the world.
Price: £1500 – payable in instalments over 10 months
* This event is open to all and not included in the 150 Club.