PROP Jimmy Litchfield is the only forward in the Coventry Rugby squad to have figured in every game this season – something he can put down to reasons as varied as his own improved fitness and the fear factor from pressure for places within the squad.
"I've been quite lucky in that respect, and I've only benched once as well," said the 26-year-old, who made 28 appearances last season after arriving at Butts Park from London Scottish. "It's been really good and I'm enjoying it.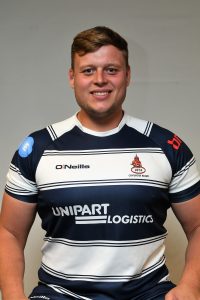 "I haven't played every game in a season before and it's definitely one of my targets to get there – I think it would be the same for any player, you want to be involved in every game you can be and always pushing to start.
"I know it was really disappointing that our game was called off last weekend, but in another way it gave me a bit of a rest and I feel fresh as anything for this weekend – hopefully I'll be selected.
"I've been pretty lucky so far where injuries are concerned and I hope I can keep it going, but there are always boys pushing you hard, especially young boys coming through like Luc Jeannot who's played a couple of games and did really well, he's a good lad."
Challenges from within the squad offer all the incentive needed to keep performing at the best level he can, and with Cov heading the National League One table and boasting a 100 per cent win record, Litchfield says it all provides a spur to keep the momentum going,
"Winning gives you massive confidence, just from the fact that you are going into games feeling that you are prepared for anything," he said. "The coaches are preparing us really well, the analysis we do is also going really well, and all the boys are digging in on that – it gives you a boost.
"I'm also massively fitter than last year. It started off with Corey Hircock, he did a great job to start me off and get me in better shape last season, and then in the summer, seeing the direction the club is wanting to go in, you want to be a part of it and you realise that if you're not in better shape you're probably going to get left behind a bit.
"Max Hartman has done an absolutely cracking job fitness-wise, he manages the boys really well and he got that in early in our pre-season so we hit the ground running.
"I think what helps is that everyone is pushing the standard more, and we want to play that high intensity game that other people can't live with as we showed against Ampthill and even at the start of the season against Hull Ionians and Moseley. If you play with intensity and defend with intensity, then you will get the ball back.
"It's been massively upped this season for sure, and although I'd never say for a player it's enjoyable to be doing fitness work and running, it's got to be done."
Cov laid the foundation for this season with the way they ended the previous campaign, and Litchfield believes the summer additions to the squad have strengthened their position while conceding that it hasn't been an easy ride for the front rowers with changes to the scrum..
"Phil Boulton was out for a couple of weeks with a back injury and last season that would have hampered us a bit because he's a very experienced player.
"But this year we've got people like Luke Narraway, Sammy Tuitupou and others who have a calming influence on the team which is still a young side.
"I didn't have the best first 20 minutes at Rosslyn Park and I came off, but we sorted it out – it doesn't really matter what the referee thinks or what he says is happening, you've got to work through it – and an iffy 20 minutes doesn't make you a bad player.
"It's a bit different playing on a 4G pitch, I think I was probably a bit over eager at the first couple of scrums, we just needed to settle it down and go through the process, not go off script so much.
"The new scrum Laws have taken a bit of getting used to and, personally, I'm not a fan. I think it has depowered the scrum quite a lot and just basically made it a lot easier for the referees. I think that was the main aim, but it's not necessarily what players want.
"It took a while for us to get used to because last year we were pretty formidable in the scrum and known for that around the league, but the changes mean that in a way you are a lot more vulnerable on your own ball because you're depowering yourself by one man by having the hooker put his foot up.
"It's never going to change, you've just got to get used to it and learn the tricks of the trade with the new Laws."
Tight head or loose head?
"I definitely prefer tight head, I'm more experienced and feel better there, but different players suit different games in certain positions and if one week it suits better for me to play at loose head, then so be it and I'm just happy to be helping.
"Turkish (Nathanael Titchard-Jones) and Jack Higgins have come into the club and have both done really well so far, so it keeps you looking over your shoulder and pushing on wherever you play."
Can Cov go through the whole season without losing a game?
"I think everyone's aim is to stay unbeaten and we've got a squad that can do it, but we've got to keep a level head and go into every game focused.
"We're not taking anything for granted, we're a target for every team we play at the minute because we are the only unbeaten team and everyone raises their game for us because they want to be the first team to knock us off our pedestal.
"We're the best supported team in the league and that helps us massively every week and particularly to get through the tight games.
"I'm really looking forward to Saturday, especially after last season when we were disappointed to go there in the second week and lost narrowly.
"It's going to be a physical game and they're definitely going to throw the kitchen sink at us, but we've got the tools to win."
And the Championship?
"That's the aim, that's where we want to be – I definitely want to be up there again and would love to play against an old club."