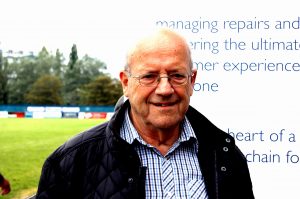 John Butler looks ahead to Saturday's visit of Esher.
THE history of league fixtures between Coventry and Esher is relatively brief, only going back as far as the 2007-08 season when we first met in the old League One. There was then a gap of one season, 2011-12 when our paths did not cross, before rivalry resumed again in 2012-13.
Prior to league rugby, there is no evidence of Coventry and Esher having played each other in either club or cup matches, although your writer can pull out a recollection of our old Extra First XV playing Esher Cardinals sometime in the early 1970s.
In terms of league meetings, this weekend's clash is the 14th. Following their win earlier in the season, Esher are currently edging it 7-6 on victories and have, in fact, come out on top in the last four meetings, recording a double last season when they also gained their first win on Coventry soil, by a single point.
Founded in 1923, Esher are based in Hersham, Surrey, where they boast land totalling 23 acres. They came about when a group of rugby enthusiasts met in a local pub and decided to form a club. One of the founder members just happened to be a Newport, South Wales fan, hence their colours of black and amber.
Having finished in the top of half of National League One last season, Esher have not had the same level of success this time round although, that said, they defeated Cov pretty comfortably back in October, one of six wins gained to date. They are still chasing their first away win of the season and are currently 12th in the table.
Director of rugby is Ricky Nebbett, who took over the reins this season. A large number of last season's squad were retained with newcomers including fly-half Greg Smith, who kicked the goal points last week in the win over Fylde. Top points scorer currently, on 87, is another fly-half or full-back, Stephen Boatman, while scrum-half Andy Garner has scored eight tries.
Winger Spencer Sutherland, who was on the bench last week, played for Cov whilst studying at Loughborough University, making eight appearances back in the 2011-12 season and scoring two tries.
Flat Badger will provide the live post-match entertainment in the clubhouse.