John Butler takes a look at Saturday's visitors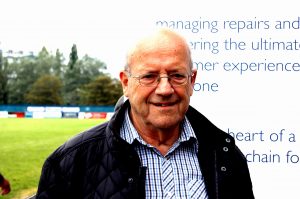 BLAYDON make the long trip down from the north east on Saturday for their seventh visit to Butts Park Arena and the 13th fixture between the two clubs since their paths first crossed when Coventry dropped into National League One for the 2010-11 season.
To date Blaydon lead 7-3 in wins with, unusually, both games in the 2011-12 season ending as draws.
If Cov squad require any extra incentive, the current inbalance in victories must surely be one, and it is also a fact that a Coventry side has yet to win at Crow Trees.
Last season Cov won this fixture decisively, 38-0, and Blaydon last won at the BPA in 2013-14 when they also achieved a double.
With three wins now on the trot, including the first away one last week at Hull Ionians, confidence in the Cov squad has been growing, while Blaydon will travel in more confident mood after recording their first win of the season last week over Fylde.
Rugby football within the Blaydon club can be traced way back to the 1880s, although records show the club was not officially formed until 1888.
The early years saw them play a lot of the time at Blaydon Racecourse, before that site was purchased in 1951 by the then North Eastern Electricity Board. Blaydon then moved to their present site at Crow Trees in Swalwell, just off the A1, meaning of course they do not actually play in the town of Blaydon.
Two of their most famous former players, internationals Steve Bainbridge and Mickey Skinner opened the refurbished club house in October 1996, a site which for many years has housed their famed car boot sales on a Sunday morning.
Having finished in 11th position last seasn, Blaydon to date have found life pretty tough this time round under director of rugby Micky Ward who has a long-standing link to Newcastle Falcons.
The win over Fylde moved them off the bottom of the table, but four of teur seven defeats have come away from home at Esher, Blackheath, Birmingham Moseley and Darlington Mowden Park.
The squad has remained pretty well unchanged from last season with some seven players added. A number of names well known to Cov remain, half-backs Andrew Baggett and Nathan Horsfall, and in the forwards the long-serving Robbie Kilbraier, Chris Wearmouth, Keith Laughlin and Jason Smithson. The latter was way up in the list of the division's top try scorers last season, many achieved from the renowned Blaydon rolling maul.
One of the few departures from last season is now much closer to us, namely Rhodri Adamson, who of course joined Cov during the close season. Rhodri, who celebrated his 23rd birthday last Saturday, played for Blaydon whilst a student at Newcastle University, playing over 50 games and also representing Newcastle Falcons at the Stoop with some distinction at Sevens.