Back to the South East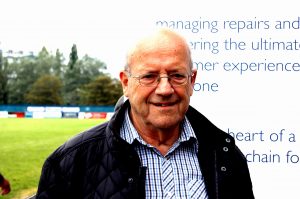 by John Butler
COVENTRY make a swift return to the south east, albeit to a different county, when they travel to Esher on Saturday in search of a first away success of the season.
The history of the Esher fixture is not one of the longest on Cov's list, all games at first team level are pretty recent and totally the result of league rugby. The first meeting was just five seasons back.
Slightly oddly, your writer can recall a very brief period back in the 1970s when the old Extra First XV did briefly meet Esher Cardinals. Another brief and very old link dates back much further when Norman Stock, the scrum-half partner of the famed Ivor Preece, did play, one recalls, for Esher for a short period whilst resident in those parts back in the early 50s.
The Esher club itself was formed way later than Cov in 1923/24. They boast facilities totalling 23 acres of prime land at their Molesey Road, Hersham base. They run five senior competitive and social sides, which is not something many senior clubs can still achieve in 2016. Until very recently, broadcaster John Inverdale was chairman of rugby, his role now being chair of long term planning & development. Another well-known rugby name, Simon Halliday, the former England international, is an executive director.
Under head coach Tom Williams, Esher have not enjoyed a particularly successful start to their season, winning just their opening game at home narrowly over Macclesfield. Since then they have lost at Blackheath, at home to Hartpury College – so two direct comparisons with Cov there – and last Saturday 26-20 at Fylde with the Lancastrians ending their losing streak. The result left Esher in 15th place in National League One.
A name many Coventry supporters will remember now in the Esher ranks is their top try scorer from last season, winger Spencer Sutherland. Spencer made eight appearances in Cov colours in season 2011/12, scoring two tries, at the time when he was studying at Loughborough.
This weekend's game will be just the ninth between the clubs, currently the number of wins each has achieved is four. One suspects many Coventry fans will recall with some relish the 2013/14 match at the Butts Park. It was in midweek following a rearrangement, Esher travelling with a great deal of optimism at the end of a successful season. Cov pounded out a magnificent 43-0 win that Wednesday night. On the reverse side as it were, last season Esher gained their first league double, the 46-5 margin at Hersham not being one of Cov's better days, whilst the return at the Butts Park was much closer, 13-12 to the visitors.
With hopefully another good number of travelling supporters again behind them, on the back of the narrow defeat and a much improved performance against the league leaders Hartpury, Cov should certainly travel in better heart. A win away would certainly boost morale further as the squad look to improve on the current ninth spot in National League On, before the two consecutive home games which follow.