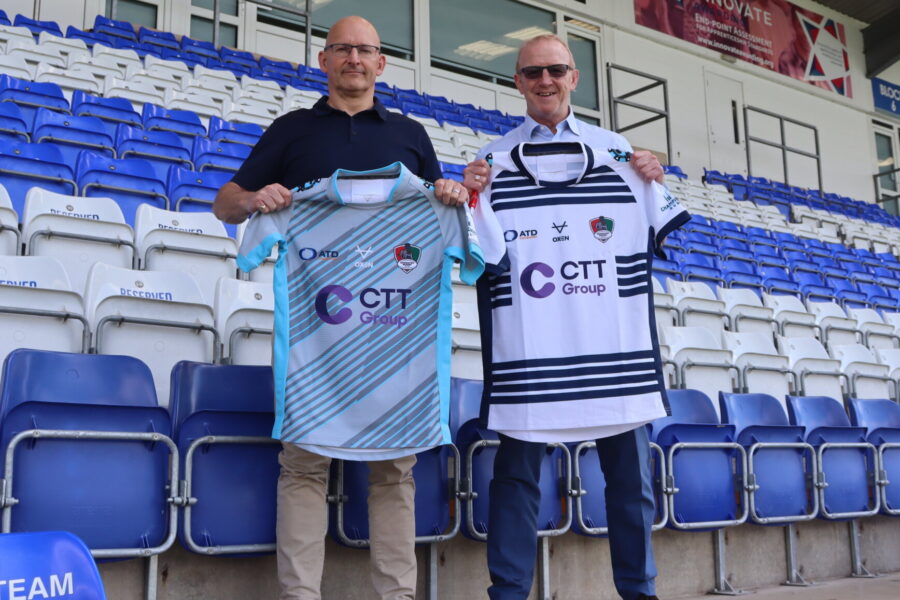 It's the season for significant milestones! While Coventry Rugby embarks on its 150th anniversary, its Main Club Partner, CTT Group, is celebrating its 20th year of bringing innovation to the estate planning industry.
Coventry Rugby is delighted to announce that our strong relationship with CTT Group will continue into the upcoming season – the seventh season in a row with CTT as main sponsors. The support the club has received from CTT has been hugely appreciated both on and off the pitch, and Coventry Rugby is excited about what this partnership brings for the new season.
Based in a stunning Edwardian Manor, Gables House, on the outskirts of Leamington Spa, CTT is a rapidly expanding group that provides multi-disciplinary support and digital innovations for the UK's Professional Adviser community, including estate planners, financial advisers, solicitors and accountants.
It is with great pride that Coventry Rugby players will continue to sport CTT Group's logo at the centre of their home and away shirts in 2023/24.
Bob Massey, Director and Co-Founder of CTT Group, has made his own mark playing on the Coventry Rugby pitch for four seasons, with the legendary Sir Clive Woodward apparently calling him the 'hardest tackler' he's ever come across.
"It was an easy decision to continue our sponsorship of Coventry Rugby for another season," Bob says. "I am lucky that my fellow CTT directors, Clive [Ponder] and Andrew [Houston] are also rugby fanatics. The BPA is a great place to come and let our hair down – whilst I've still got some!"
It is thanks to rugby that Clive and Bob met and subsequently started their business together in 2003 – uniquely combining Clive's estate planning expertise with Bob's financial, tax and trust advice acumen. Their love of sporting teamwork and leadership skills is shared by Andrew, who joined CTT in 2019, and similarly pursued amateur and professional rugby in his youth.
All three have frequented the Butts Park Arena alongside many colleagues, cheering on the team.
"Last year was another great season," Bob recounts, "not just because of the results and 3rd place in the Championship, but the way the lads played; great open rugby to watch and the team and coaching staff found a way of beating bigger & stronger, but certainly not fitter sides. The speed of recycling the ball through phases and off-loading was good to watch; often the opposition had no answer, nor legs and lungs left by the time we hit the last 20 minutes!
"Looking forward to more of the same at the Butts for the season and CTT Group are proud to be your sponsor as Coventry approaches its 150th year. I hope our bit of support helps the club take more small steps and a few strides back towards competing at the highest level. The club and all its players will have a great opportunity to take a scalp or two in the new cup competition."
The long-standing support CTT provides is clear across all aspects of Coventry Rugby Club. Their partnership renewal will see CTT continue as pitch-side advertisers, post-protector sponsor, player of the month sponsor and hospitality attendees – all of which have played a part in Coventry Rugby progressing into one of the top clubs in the Championship.
CTT Group's valued backing has gone a long way to ensuring the club produces a high level of rugby and provides a superb match day experience for the fans and local community. This has been particularly reflected in the club achieving their best-ever results in the professional Championship era.
Matt Cannon, General Manager of Coventry Rugby, is delighted with the renewal:
"We are thrilled that CTT Group have extended their Main Club Partnership with Coventry Rugby. It has been a pleasure to get to know Bob, Andrew and the team throughout the Season and strengthen the relationship between the Rugby Department with the Player of the Month Sponsorship. Not only are they locally based, CTT Group perform great work within the Community sharing the same vision and values as Coventry Rugby. I would like to thank CTT Group for their investment and commitment. We could not ask for a better Partner. As always, we look forward to our continued partnership and working together in the future."