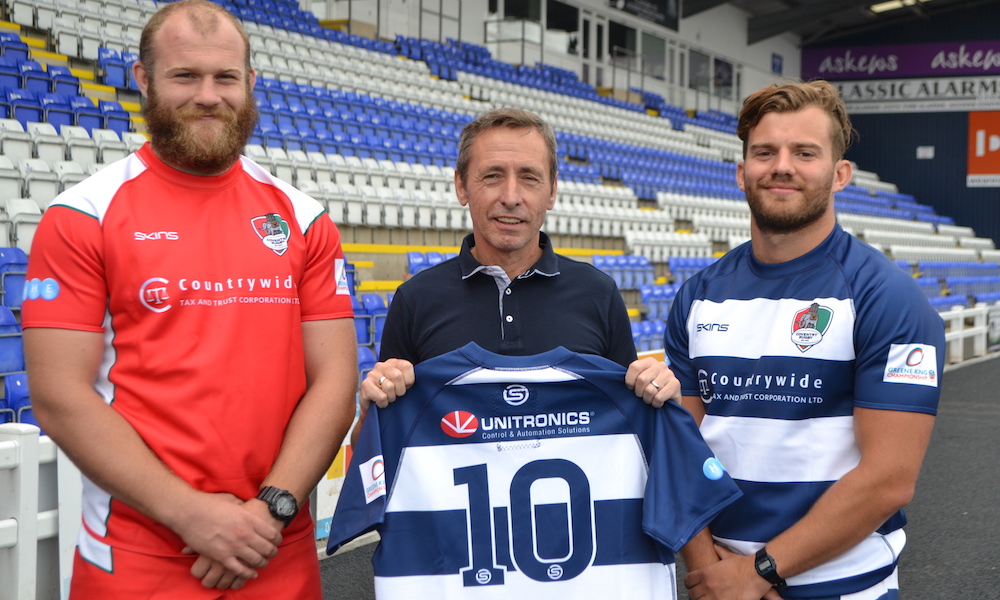 For long-time Coventry Rugby supporter Stuart Banbrook the club's range of partnerships has given him the ideal opportunity to introduce international companies to the club and rugby union as a sport.
As a Country Manager for Unitronics, Stuart is responsible for growing the brand presence of this multi-national company within the UK market, and is using a shirt partnership with Coventry Rugby to help achieve this aim.
With the club receiving more media profile as it builds its place in the Greene King IPA Championship, including a live home match on Sky Sports in December, he says that it is proving to be both cost-effective from the company's perspective and rewarding from the personal and emotional point of view as he sees the investment start to bear fruit.
"Rugby kicked off for me in 2003 when England won the World Cup, when I first started watching Cov at Coundon Road," he says. "My son was also playing for Broadstreet at the time, and I used it as an opportunity to encourage Pro-Face, the company I was working for at the time, to sponsor the club.
"We had our logo on the shirts for a number of years, while I got the chance to watch rugby, introduce my wife to rugby as well as the team at Pro-Face UK to rugby as well.
"I'd also been watching Coventry Rugby as well and after looking at player sponsorship we took the decision to take up a shirt sponsorship, firstly on the sleeve and then moving onto the back of the shirt.
"I took the view that while people locally might not know our logo, the demographic of people who do watch rugby across the country – such as engineers and decision makers – would recognise it, especially on the website, social media and in the programme. I persuaded the Japanese management to agree to go ahead with it, and this gave me a good case study to take with me when I moved to INSYS, a German company, a few years later, and then Unitronics, who I joined in 2018.
"They've jumped on board and given, say, a comparison with a magazine that might cost us more but where we can't guarantee how many people will see it, I can say with certain how many people are watching and the demographic of the people who are seeing the logo.
"For the amount we're paying compared to the amount of exposure we're getting in a sport which fits our company values, it's an easy decision to make. If someone in our industry sees our logo on the shirt they might recognise it when they see it in a magazine, or at a conference. And when fans buy shirts you know that the logo is going to be seen year in, year out, as people wear their shirts all the time.
"I also emphasise the journey that the club is on. Coventry Rugby has grown rapidly with more and more structure coming into the club, and there is a lot of ambition as well. It is important, and while Unitronics do see it as a marketing exercise I like the idea that I'm supporting Cov Rugby. It's helping the club and we're all getting something positive out of it.
"There are a lot of good reasons to sponsor a rugby club and I would recommend it to any company."
A number of partnership and hospitality opportunities remain available with Coventry Rugby going into the second half of the season for companies looking for value-for-money brand exposure. To find out more contact Toby Costar via tcostar@coventryrugby.co.uk