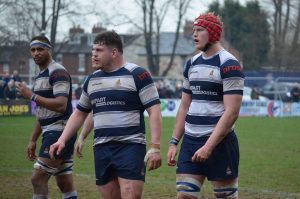 Coventry Rugby are delighted to announce a brand-new Under-18's programme to supplement the new Development Academy with the aim to supply more homegrown talent.
Club Captain Phil Boulton will be taking a lead role in the new programme following his appointment as Rugby Development Officer at the club.
The programme will deliver a professional standard of training with supplementary factors such as specific coaching, strength and conditioning and access to all of the clubs' facilities which will aid players development.
Director of Rugby Rowland Winter explains the need for the programme.
He said: "The city has a rich tradition of rugby development, with lots of today's top level players having come from Coventry and the surrounding areas. We want to make sure that continues and give good opportunities for more to do the same.
"It allows local talent to have a route into the professional game with Coventry Rugby, gain access to higher levels of training, coaching, strength and conditioning, and medical provision.
"Now the pathway at Coventry means they can progress from the U18s, onto the Development team, and then hopefully to 1st XV representation."
As the new Rugby Development Officer and as Head Coach of the Under 18 team, Phil Boulton clarifies what this new programme will entail for new players.
"We are improving the pathway to work towards a Coventry team with more home grown talent included, with lads like Rob Knox coming all the way through from local clubs to the Championship. It's really important for this City to have this set up with the team so close to the top flight once more."
He added: "I will be visiting schools and clubs, alongside other Coventry coaches and players, to work with their U18s teams, providing support and guidance for their coaches and identifying talented players.
"We will then invite the selected players to train and play once per month for Coventry Rugby. They will continue with their clubs and schools, but now have access to this higher playing and training level.
"We will have approximately 10 fixtures over the season against other Championship, and some Premiership clubs creating a new level of competition for talent in the city."
For any questions about the new U18s programme or  to recommend young talent, please email Phil Boulton at pboulton@coventryrugby.co.uk