by John Butler
WHAT a performance and, ultimately, what a result!
There can be no doubt about it, this was a real statement of intent to the remainder of the National League One.
It was, overall, a highly impressive Coventry performance, embellished with an 8 to 1 try count. There simply appeared to be absolutely no weak link in the Cov armoury, such was their dominance of their old rivals.
In the honest words of a very long standing Moseley official post-match, ''you gave us a good stuffing''.
Understandably, after a positive pre-season and a big win seven days earlier, expectations amongst the home faithful were high. Surely, nobody departed disappointed.
The question on home lips also post-match was ''could this be the biggest league win over Moseley?" 60 points were scored in the 2002/03 game, but 40 conceded, but in terms of points difference this latest one ranks second to the 54-7 win of 2000/01.
Cov's dominance in all phases was immense. James Stokes was named sponsors Askew's man of the match. Equally, the title could have gone to several others, notably amongst the forwards. And allthis in front of a crowd well in excess of 2,100.
Moseley to their credit battled to the end, but save for a fairly even first 10 minutes, they were never really in it and in terms of overall power, fitness and guile, Cov frankly were on a different planet.
Briefly, Moseley did enjoy the lead courtesy of the first of two James Dixon penalties, the first from fully 50 metres.
The lead was to last just four minutes as the powerful Coventry forwards soon began to exert pressure.
Following two penalty kicks to touch, the forwards got to work, flanker Loti Makaafi being driven over from a catch and drive, which already is such a potent weapon for this Coventry squad. Will Maisey misjudged the wind to leave his side 5-3 up.
More excellent play was to follow with lock Nile Dacres, conspicuous as he was on numerous occasions, steaming over for the second try after a deft pick-up, with Maisey and George Oram also involved. Maisey converted and on 20 minutes, Cov were 12-3 to the good.
Briefly Moseley threatened, Dixon landing a second penalty, this time from close-in, before the Blue & Whites continued their drive for tries, two more coming before the break.
The third try was in itself a glorious effort. Multi-handling up the left begun by Rob Knox was followed by a switch to the righ, where again Cov's magnificent angle of running and slick passing left Stokes with an overlap before the full-back dummied his way over. Maisey converted.
Four minutes later, another wonderful move out of defence led by the ubiquitous Dacres almost succeeded, only for Alex Grove to be squeezed out.
Not to be denied, Coventry were to claim the bonus point try just into added on time.
From again close-in, scrum-half Dave Brazier was given a clear run in close to the corner against his former club. Maisey added the extras from touch and Cov left the field at half time having thrilled their fans and with a commanding 26-6 lead.
If Moseley, following half time discussions, were to mount any sort of comeback, it was effectively ended five minutes into the second half.
Gathering a kick out of defence, Stokes set off down the right from his own half, possession moving super slickly through several pairs of hand before Grove, also against his old club, finished off in some style in the right corner.  Maisey's conversion attempt just failed.
Moseley had their moment on 50 minutes, driving Knox back over his line, but the dominant home forwards won the scrum penalty with any danger cleared.
Yet another ex-Moseley man, flanker Jack Preece, enjoying his home Cov debut, then broke dangerously, before on 63 minute, the visitors were hit by another superb try.
Maisey broke in the visiting half and fed Stokes whose flashing feet took him well clear for Coventry's sixth try, Maisey converting well.
By now, Moseley were struggling in a big way to stem the attacking advances that Cov were throwing at them and even with several changes being made, two further tries were to follow.
First, on 75 minutes, replacement hooker Scott Tolmie was successfully on the end of another unstoppable catch an drive, and then, right on 80 minutes, replacement Ben Palmer scythed through the centre for a wonderful individual try. Maisey converted both, the second bringing up Cov's second half century of points in consecutive weeks.
Added on time and with Moseley applying some belated pressure, Palmer was yellow-carded for killing possession and from the penalty to touch, replacement hooker Ryan Roach was driven over, his co-replacement and former Cov man, Sam Holdsworth failing with the conversion.
110 points from the two games, maximum match points gained and all with 17 tries and only 3 conceded. A magnificent start, a standing ovation from the home crowd, and now the squad make the interesting trip to challenge Old Albanian next Saturday.
Coventry: tries Stokes 2 (32, 62), Makaafi (12), Dacres (18), Brazier (40), Grove (44), Tolmie (72), Palmer (79); conversions Maisey 5 (19, 33, 40, 74, 80). Birmingham Moseley: try Roach (80); penalties Dixon 2 (9, 29).
Coventry:  Stokes; Grove, Stevens, Tuitupou (Palmer 61), Knox; Maisey, Brazier (White 61); Litchfield (Boulton 55), Nielsen (Tolmie 51), Boulton (Brown 29, Litchfield 75), Dacres, Oram, Makaafi (Daynes 51), Preece, Narraway (Nilsen 70).
Birmingham Moseley: Howard (Dixon 68); Penn, Molenaar, MacBurnie, Pointon; Dixon (Hollingsworth 49), Lewis (Brown 62); Wrafter (Tideswell 69), Caves (Roach 54), Tideswell (Tyack 38), Lawrence, Bean (Taylor 35), Le Roux (Bean h-t, Le Roux 68), Cowen, Brightwell.
Referee: Jamie Leahy.
Attendance: 2,100.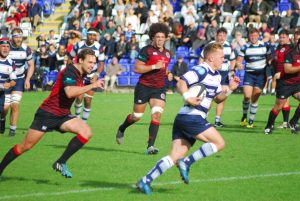 Ben Palmer on his way to the posts for Cov's final try. Picture by Nick Meredith.