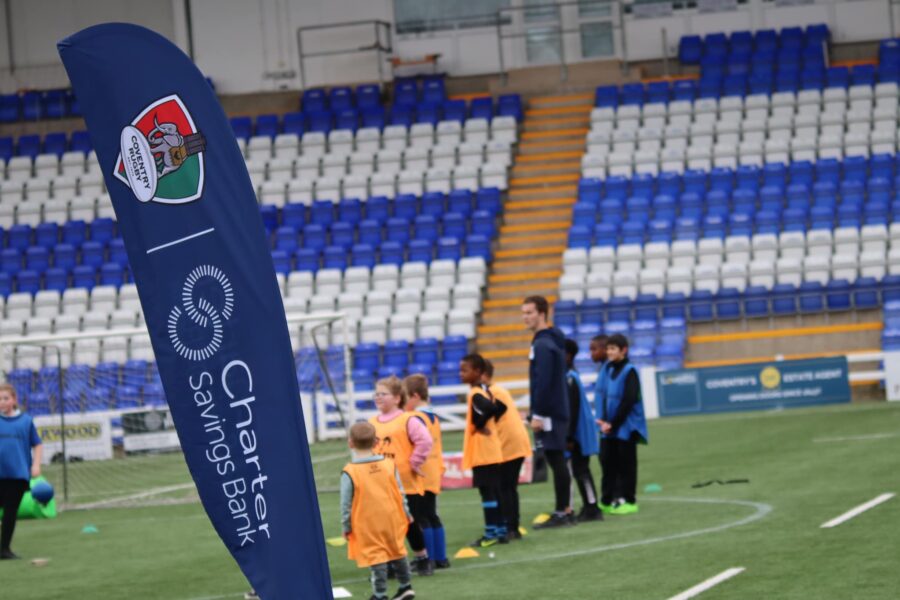 Coventry Rugby is excited to announce that our Partnership with Charter Savings Bank will be continuing for a further two years. The partnership that has been developed over the past two years has seen our community initiatives grow from strength to strength, with their support and dedication to helping the West Midlands community mirroring the ambition of Coventry Rugby.
Both Coventry Rugby and Charter Savings Bank are dedicated to inspiring young children through sport and education, and the renewal of this Partnership represents a commitment to continue the fantastic work that is going on in the community.
Matt Cannon, General Manager of Coventry Rugby, is delighted with the renewal of such a meaningful partnership, "We are thrilled that Charter Savings Bank have extended their Partnership with Coventry Rugby. This allows us to continue the running of our excellent Community Programmes – Rugby and Reading and Project 500. Their passion for the West Midlands Community and their desire to give back to the community is one of our key pillars and is important to us. Getting to know Jonathan and the team through our Club events and we look forward to the relationship growing and welcoming them to matchdays this Season".
Their support is not only seen within our Community projects but Charter Savings Bank are also one of our pitch side advertisers and a main sponsor of our annual Golf day.
Programmes such as Rugby & Reading and Project:500 are brilliant examples of how sport can be used to influence positive change and Charter Savings Banks' support of these projects significantly increases our ability to do so.
Jonathan Couch, Charter Savings Bank said, "I'm delighted and extremely proud to be extending our partnership with Coventry Rugby, supporting them as they support those in the local communities who need a little extra help. I'm looking forward to seeing how things progress and how together we can help even more children and adults across the Midlands".
Charter Savings Bank has a simple and straightforward approach to helping all their customers and clients grow their savings, whether they are saving over the longer term for a special occasion or are looking for a home for their money that they can access quickly.