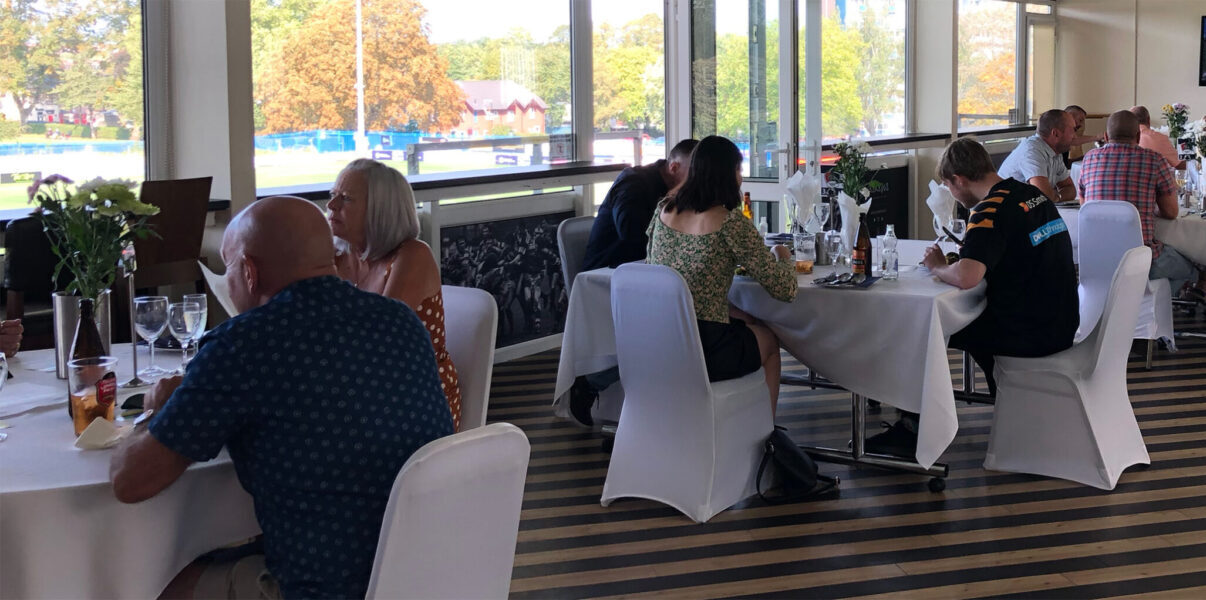 Coventry Rugby's management is looking ahead to December and making Butts Park Arena a hive of activity with a range of events for all the family.
COMEDY NIGHT
December 17th
Everyone is in good need of a laugh coming into the end of 2020, which makes Butts Park Arena the place for you.
We will be hosting four comics from the national circuit, serving up the best pub grub which you can choose to have either when you arrive or during the first interval.
Doors open at 6pm with the first act on stage at 7pm. Entry, including your food and your first pint or soft drink, is £25 per person.
Room capacity is limited to 60 people so early booking is advised. All bookings should be made on behalf of one household/support bubble.
Details of the acts will be announced very soon!
CHRISTMAS MARKET AND GROTTO
December 12th
We are looking to hold a Christmas market at Butts Park and are looking for help and support from local schools, craft groups, churches and community groups to make this a brilliant afternoon for all the family!
We're also talking to Santa's elves about booking a special appearance from Christmas's main man as well!
For more information contact Elizabeth Martin via emartin@coventryrugby.co.uk
BUSINESS LUNCHES
Each Tuesday and Friday during December (last lunch 18/12/20)
2020 has been a year that will live long in the memory for loads of reasons and to mark the Festive Season we are holding Business Lunches where you and your staff can relax and enjoy each other's company over a three-course Christmas lunch featuring mouthwatering starters and desserts, with the main course a platter of roasted meats served with all the trimmings!
Places are £25 per person with minimum bookings of six people.
Contact Elizabeth Martin via emartin@coventryrugby.co.uk for more details and to make your booking!
SUNDAY LUNCHES
December 6th and December 20th
We will be continuing our now-famous Sunday Lunches – with a Festive theme! – during December, where you can pre-order either a two or three-course lunch with a choice of mouthwatering starters and desserts and a main course platter of roasted meats with all the trimmings!
Places cost either £20 (two-course) or £25 (three-course) per person, with a minimum booking of two people. Bookings should be made for one household and/or support bubble.
Bookings for Sunday, December 6th will be open soon at coventryrugby.co.uk/sundaylunch and advance bookings for December 20th can be made by emailing Eddy Perez Reyes via epreyes@coventryrugby.co.uk
LOOKING AHEAD TO JANUARY AND THE NEW YEAR
We are looking ahead to the New Year with the following events:
Comedy Night | Thurs, Jan 28th
Butts Park Sports Bar – Six Nations 2021 | Sat, Feb 6th; Sat, Feb 13th; Sat, Feb 27th; Sat, Mar 13th; Sat, Mar 20th
Sunday Lunches | Sun, Jan 10th; Sun, Jan 31st
Why The Whistle Went | Dates TBC
Supporters Club Pub Quiz | Date TBC
Supporters Club Race Night | Date TBC