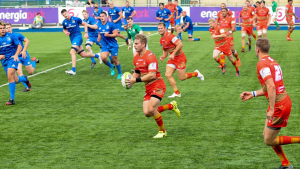 Coventry Rugby breezed past last season's British and Irish Cup finalists Leinster Development with a scintillating ten-try fest at Energia Park.
The Blue and Whites, or Red and Golds on the day scored seven tries against a young but energising Irish outfit and came away with a 43-21 victory to seal their second win of pre-season.
Coventry trailed at the break as the Irish province scored twice and converted both but scores from David Halaifonua and Sam Tuitupou brought the visitors back in contention.
However, Rob Knox put the side in front shortly after half-time and shortly after Tony Fenner added a brace to put Rowland Winters men in the ascendency seat, Leinster did add one back before Junior Bulumakau and Tim Bitirim rounded off the tie.
It took Coventry a mere 60 seconds to open the scoring, a move that favoured the back on a slick artificial surface, Halaifonua the beneficiary as he touched down in the far corner.
In a short turn around an aggressive Leinster side managed to take the lead after starting their attack from a deep position, the Blues' left winger outfoxed the visitors defence with a lovely infield grubber kick which was pounced on by his supporting midfielder to score under the sticks.
Leinster threatened to score again, and inevitability got their reward for territory and possession, fast hands and a neat infield pass on the Coventry 10m line opened up a gap which the Leinster backline used to stretch their lead.
On approaching half-time, Coventry salvaged a score from the set piece, Leinster's scrum was penalised, Sharp kicked to touch and from the lineout the maul powered their way over.
The Blue and Whites went into the interval behind in a close first 40 minutes, but there was a strong feeling that Coventry had weathered the storm and were competing effectively at the set piece which gave them an edge.
Shortly after the break, Coventry soon took control of the game, the visitors gained a penalty for a high tackle and kicked to touch from the resulting, after another powerful driving maul, Knox broke away to go over.
After some multi-phased play from Coventry, the visitors took a resounding lead after Fenner opened up the field to score a good individual try and just a minute later, from the restart Fenner added his second of the game, a lovely piercing run in the centre.
The match wasn't quite over though, and Leinster managed a couple of periods of pressure around Coventry's 22. This soon paid off for another try and their conversion took them back within eight points of the visitors.
As the game progressed into the latter stages, a series of handling errors under pressure allowed Coventry through with Junior Bulumakau pouncing over with his trademark swan dive.
Coventry were in firm control of the game as the clock found itself showing less than ten minutes remaining and after big hits from Latu Makaafi and Jack Ram forcing their way through the Leinster attack, a turnover allowed space for Bitirim to dance through.
Coventry come away with their second win from two games in pre-season and look forward to welcoming Cambridge on Friday evening, and Wasps on Saturday to Butts Park Arena.
---
Timeline |
1′ David Halaifonua Try 0-5
7′ Leinster Try 5-5
8′ Leinster Con 7-5
18′ Leinster Try 12-5
18′ Leinster Con 14-5
31′ Sam Tuitupou Try 14-10
32′ Jake Sharp Con 14-12
45′ Rob Knox Try 14-17
46′ Will Maisey Con 14-19
56′ Tony Fenner Try 14-24
57′ Tony Fenner Try 14-29
62′ Leinster Try 19-29
62′ Leinster Con 21-29
68′ Junior Bulumakau 21-34
69′ Will Maisey Con 21-36
73′ Tim Bitirim Try 21-41
74′ Will Maisey Con 21-43