Very few rugby players enter their second playing career at 25, but that is the unusual situation in which recent Coventry Rugby recruit Alex Woolford finds himself.
And although he is only a few weeks into his escape from what he laughingly refers to as "the real world," there is no doubting the rangy second row's determination to make a success of his most recent transition – from wealth management to lock forward.
"After quite a lengthy spell out of the game, to have the opportunity to come back into a full-time environment – which I never thought I would get again – has been fantastic," he confirms.
"When Rowland got in touch I couldn't really say no, and since then he boys have been really welcoming. Coventry Rugby Club is an awesome place to be, where there are clearly huge aspirations.
"My last two games were exactly a year apart, so I know it will take me a while to get back to the fitness levels I had, but I want to play as much as possible and help out in any other way I can.
"Having just come up from National One, although the away form hasn't been great, we've shown what we are capable of and at times produced some really good rugby at the Butts.
"We're struggling for consistency, but if you put it in context a bit, it's an overwhelmingly positive situation. Improving that is very much within our own control; it is very exciting for me to be involved in."
Rewind seven years, and the Towcestrians product joined Northampton Saints' academy after leaving Rugby School, where he had spent his sixth-form years on a sports scholarship.
"I went into Saints' academy aged 18," he recalls, but I was actually quite unusual as I didn't play any representative rugby prior to my last year at school.
"I spent three years in the academy, then the last two in the first team squad. Although I loved my time there, it was also quite frustrating.
"For your first couple of years you don't play much while you're tuning your body to the demands of senior rugby, but then I spent time on loan at Moseley and here at Cov where I played three times.
"That gave me a taste for senior rugby, and in my first year after the academy I started in the LV=Cup and was on the bench a couple of times in the Premiership.
"You then want more, but with Courtney Lawes not missing much time after England went out of the World Cup early, then Saints signing Victor Matfield, my opportunities were limited."
This situation led Woolford to join London Welsh, a seemingly ambitious club who had spent two of the three previous seasons in the Premiership.
However, the then 23-year-old and his teammates, including Cov skipper Heath Stevens, were soon to discover things were very much not as they seemed.
"I'd had four months on loan at London Welsh from Northampton in early 2016," Woolford says.
"I played a lot and loved the club – it was a fantastic place – but I didn't realise how well they were shielding their financial problems from the squad.
"I was then offered a two-year deal to make the move permanent, but after a month we started to become aware in dribs and drabs of what was going on behind the scenes.
"It started with us being paid late a couple of times, but things spiralled and in December their licence was revoked.
"About two weeks before that I'd suffered a serious rupture of my ankle ligaments. When Welsh tried to revive the club they said they would try to help me rehab back to full fitness, so I stuck around, but about six weeks later it all came to an end."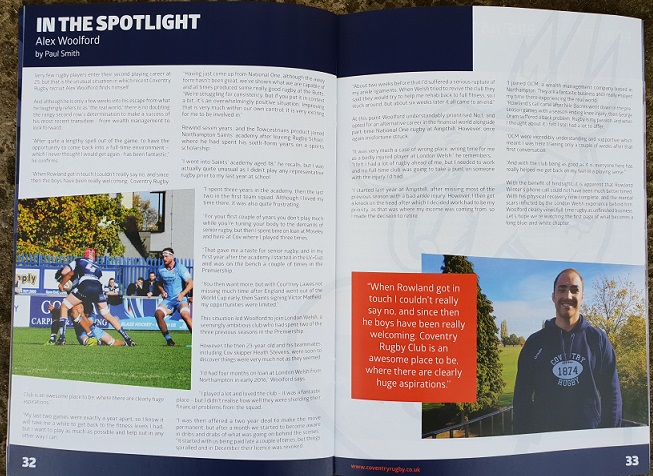 At this point Woolford understandably prioritised No.1, and opted for an alternative career in the financial world alongside part-time National One rugby at Ampthill. However, once again misfortune struck.
"It was very much a case of wrong place, wrong time for me as a badly injured player at London Welsh," he remembers.
"I felt I had a lot of rugby ahead of me, but I needed to work and no full-time club was going to take a punt on someone with the injury I'd had.
"I started last year at Ampthill, after missing most of the previous season with a bad ankle injury. However, I then got a knock on the head after which I decided work had to be my priority, as that was where my income was coming from, so I made the decision to retire.
"I joined OCM, a wealth management company based in Northampton. They are a fantastic business and I really enjoyed my time there experiencing the real world.
"Rowland's call came after Nile Dacres went down in the pre-season games with a season-ending knee injury, then George Oram suffered a back problem. Rugby is my passion, and when I thought about it I felt I still had a lot to offer.
"OCM were incredibly understanding and supportive which meant I was here training only a couple of weeks after that first conversation.
"And with the club being as good as it is, everyone here has really helped me get back on my feet in a playing sense."
With the benefit of hindsight, it is apparent that Rowland Winter's phone call could not have been much better timed. With his physical recovery now complete, and the mental scars inflicted by the London Welsh experience behind him, Woolford clearly views full-time rugby as unfinished business.
Let's hope we're watching the first page of what becomes a long blue-and-white chapter.