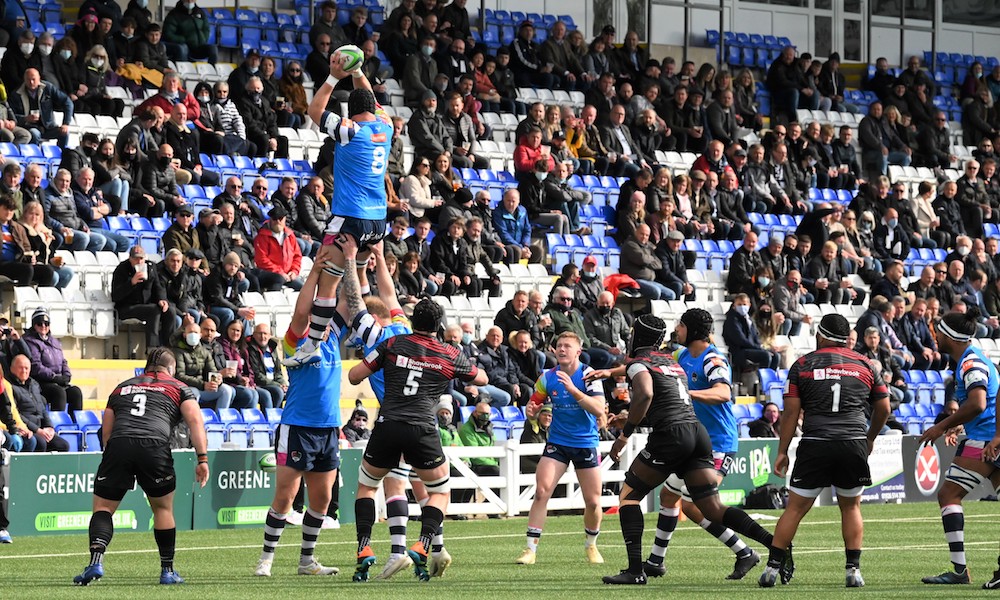 Prior to his work with Coventry, Chris Wearmouth was Head of Communications at Northampton Saints between 2007 and 2017, a period which included that club's most successful ever decade, requiring the organisation of a number of major knockout matches. With that experience under his belt, here is his reflection on the challenges overcome for last Saturday's re-opening of Butts Park to supporters.
Ten years ago Northampton Saints was in the middle of a purple patch on the field, with a European Challenge Cup already under the club's belt and plenty more trophies and finals to come in the next five years, including a Champions Cup final, several Premiership finals and more.
Throw in the knockout matches and moving several big games to Stadium MK – including a Rugby World Cup test event – and you quickly get into the routine of scheduling planning meetings with multiple stakeholders, making sure the ticketing system is in shipshape fashion and the communications out to Season Ticket Holders, sponsors and general supporters is as clear as it can be.
Despite all this experience, I can honestly say that last Saturday's Coventry game against Saracens was the hardest that I have ever worked, not so much on the day (where once you open the gates it is either going to be brilliant or rubbish with not very much you can do to influence it one way or the other) but in the planning and implementation stages.
When I first started working with Cov there was a commercial, administration and operations team of nine, not including Nick Johnston or the community guys. A couple of extra staff joined in early 2020, but despite that match days and match planning took up plenty of time during the working week.
Fast forward to May 2021 and not only have we had three members of staff leave as a result of the pressures of the pandemic, but we have had to cope and comprehend with a significantly changed model of operation, not least with regard to the allocating and selling of tickets and hospitality, and the selling of food and drink to general admission supporters.
What you saw on Saturday – the different entry routes, beer garden, bottle bars, tables of six, bubbles of tickets, and so on – was the culmination of many, many, many hours of meetings, discussions, Zoom conference calls, more meetings and more discussions, and having the day run so smoothly is a reflection of how seriously we all took the matter at hand.
This would have put pressure on any group of people, but it's easy to forget that the actual framework under which sports stadiums were able to open was not confirmed until less than two weeks before the game, meaning that at the drop of a hat we had to be ready to go.
Event catering companies and facility companies, who had themselves been out of action for many months, were called into action. Over 100 staff had to be found from somewhere at short notice, the main marquee had to be re-purposed into a changing room, and the entire venue had to be made as Covid-secure as it could be, with separate standing areas, one-way movement schemes, and so on, just a few of the tasks which needed to be done.
So I am in awe of Liz Martin for managing to be both the club's Covid-19 manager, hospitality organiser, operations manager and recruitment lead, all in one. Meanwhile Eric Richardson and his army of volunteers spent many hours putting the stadium together and ensuring that Butts Park looked its best (suffice to say that pigeons have been making themselves comfortable in the eaves of the stand!).
My main area of work for this game surrounded ticketing, and in this Eddy Perez Reyes needs a massive round of applause. Eddy's background is not in sport, but he's learned quickly and put a plan together which both accommodated the regulations surrounding Covid-related social distancing and was agile enough to adapt to the changing patterns of ticket sales at short notice.
We could have made ticket sales a free-for-all, but if you watched the Liverpool home game on Sunday you would have seen just how many seats were kept clear to accommodate single seat bookers. With Saracens being the single biggest game of the season this would have been far from ideal, and while it was a manual process it also meant that we were able to sell around 1,400 tickets, just shy of the maximum capacity allowed under social distancing.
It is testament to his work that the number of errors was no more than a handful, especially when you take into account that tickets went on sale 10 days before the game, and that we sold bubbles but allocated tickets, which meant setting up two separate events within the ticketing system (trust me, it was far easier that way!).
In all it took us a week to set up the events, a week to sell the tickets and then three days to allocate all the bubbles, and the success is reflected in us selling 1/3 of Butts Park Arena's capacity, a higher percentage of capacity than any other Championship club, and without the flexibility which comes from having a stadium the size of Welford Road, Ashton Gate or Franklin's Gardens. Ticketing could have been a massive issue, that it wasn't is largely down to Eddy.
The team effort needed everyone to contribute, such as Tom Brown on the set-up, Jo Hill on the front line handling customer queries, and Rich Meacham and Matt de Redman as red zone managers.
There are a few other noteworthy organisations who helped make Saturday a success, including Future Ticketing, Northampton Saints – who loaned us the radios we needed, arranged for some of their stewards to help us out, and were generous with their time and lessons learned from their own fixtures – and Pete Nuttall, who stepped in at late notice as PA announcer.
All being well things will be back to normal in September and last Saturday will just be a memory. But no one should be under any illusions as to how deep this memory will go.