This page will be updated regularly with all things Cov Rugby Supporters Club
To find out more about the Club and what's going on, just click on the badge below.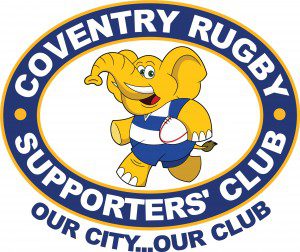 At the members & supporters forum on Tuesday 17th May, it was announced that the club has began the process of re-launching the Coventry Rugby Supporters Club.
The idea has the support and backing of Rowland Winter who met with various supporters during recent weeks and learned more about the previous incarnation of the Supporter Club in the Coundon Road days.
The benefits of an official Supporters Club are far reaching. It will act as a channel through which frequent and open communication with supporters will be a priority.
There will be a number of roles available for supporters to volunteer towards the admin and management of the Supporters Club.
More details can be found on the Unofficial Message Forum (http://www.rugbynetwork.net/boards/read/s425.htm?798,15650816)
For all enquiries please contact the Supporters Club directly on crsc1874@gmail.com