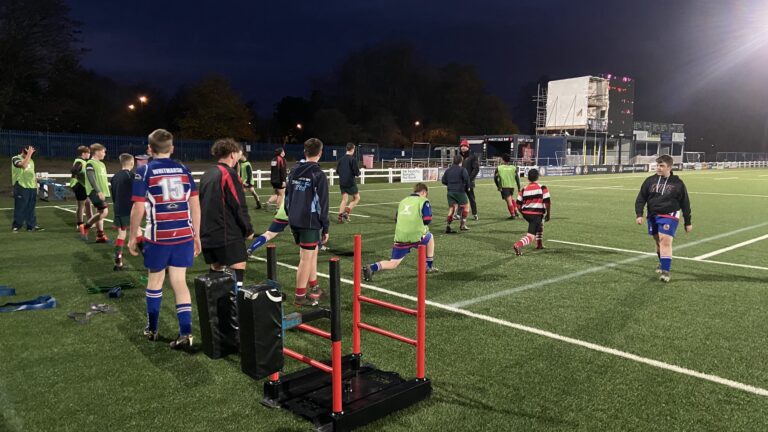 Masterclasses RETURN to Butts Park Arena!
These Masterclasses are for those aged 12-16 years old who wish to fine-tune specific rugby skills. The sessions are led by Coventry's first XV players.
Passing and Kicking coached by Josh Barton and Louis Brown (16th March 2022)
The fundamentals of the game rely on the ability to pass and kick. Join 1st XV players, scrum-half Josh Barton and full-back Louis Brown on the first Masterclass of the series. Work on a complete variation of passes and different styles of kicks from out of hand drop goals to kicking off the tee.
Scrum and Line Out coached by Rhys Thomas and Suva Ma'asi (23rd March 2022)
On the 23rd March, we have a scrum and line out masterclass being delivered by our very own 1st XV Rhys Thomas and Suva Ma'asi. Being able to perform efficiently and effectively at the set-piece is emphasised greatly at Coventry and seen as a vital area of the game. Allowing the forward pack to dominate up from or to release our electric backline.
Defence coached by Josh Bainbridge (30th March 2022)
At Coventry, we relish the opportunity to defend and apply pressure to our opposition. Whether it be from our kick chase or in open play, we see our defence as another chance to win the ball back. Join back-row Josh Bainbridge on the 30th of March to implement the different tactics and techniques used in the contact area whenever we take the field.
Attack coached by Alex Rae (first team Forwards Coach) and James Martin (6th April 2022)
We pride ourselves at Coventry on our brand of attacking rugby. Through our slick handling and making precise decisions whilst under pressure. We would like to invite you to the BPA on the 6th of April for a session run by 1st XV coach Alex Rae and winger James Martin showcasing what we work on week in and week out.
Times all Masterclasses run from 4:30-6:00 pm at Butts Park Arena.
What you will need? Please bring with you a drinks bottle, appropriate footwear for the 4G and suitable clothing for the weather. All other equipment will be provided.
Please note that there is a small fee for parking in the car park. Please ensure that you pay for parking when dropping off your child, otherwise, AMPR cameras will pick up your registration and you will receive a fine.
Book on to the classes here.