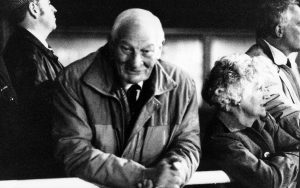 Coventry Rugby Club Legend Harry 'H' Walker was laid to rest at Holy Trinity Church earlier today as his life was remembered and celebrated in the city centre.
Harry was England's oldest-surviving international and his name was synonymous with Coventry and Warwickshire rugby for his outstanding contribution to the game, both on and off the pitch, over several decades.
First Team Manager Tony Gulliver was one of the pallbearers for Harry who sadly passed away in June at the magnificent age of 103 after a short time in hospital.
Gulliver told BBC Coventry and Warwickshire, "It's a very sad time. I've had some great times with Harry, both on and off the pitch, he was a hard man but fair as well, he loved his forwards.
"I have based my management style on him and how I treat the players now and I'm probably not quite as hard as he was but he was a good man.
"It was an absolute honour when Richard asked me to be a pallbearer, it took me back to start with, it was  very emotional. 
"He asked me to organise the rest of the pallbearers together with the remit of them being players that I played with in the 80's when Steve Evens the former Telegraph reporter called us Harry's chicks.
"Respect. That's what everyone had for Harry."
Walker picked up nine caps for his country after the Second World War and held almost every position at Coventry Rugby during his dedicated career with the club.
The current squad and management staff involved with the Blue and White's preparations for the Championship stopped today to take a minute to reflect and acknowledge the great man, Harry Walker.