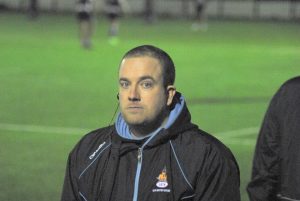 Director of Rugby Rowland Winter believes that the Blue and Whites clash with Wasps at Butts Park Arena will act as an opportunity for the City to see what talent is on offer.
The 33-year-old, who has overseen his side win both of their pre-season fixtures, admits that the squad are not focused on what side Wasps will bring on Saturday.
"They have a first team fixture against Ulster on Friday, so I am expecting to play their A League side, it will be a team that are looking to get a good performance against us as they prepare for the A League this season," said Winter.
The fixture will be the first between the two sides since Wasps' move to Coventry back in October 2014 and Winter believes that the side are progressing well as they head into the game.
"There will be lots of talented players that have been involved or will be involved in England Under-20s over the next couple of years and have been previously. There will be boys who have bits of Premiership experience as well, so they will be a good test for us and it's an opportunity for the whole of Coventry Rugby scene to come see what we have here.
"I hope so and I think they boys are progressing well, and they are prepared well, we have two big fixtures this weekend and by the end of the weekend we will know what team we are going to pick against Jersey and that will be another big step up again."
Coventry have already hosted a home pre-season fixture against Birmingham Moseley which saw around 1200 fans turn out and Winter expects the game this weekend to be a great occasion for everyone involved.
He said: "I think it will be a good one, the weather looks like it's going to be a good day and as I said, we have a couple of big games over the weekend and it's an opportunity for Wasps fans to get down to Butts Park Arena and see what a good traditional rugby club is all about. It's an opportunity for us and our fans to showcase what Coventry Rugby Club is all about its going to be a good occasion I am sure."
After reflecting on the first two pre-season outings, Winter believes the side have a few patches to fix before the Championship season starts but believes this weekend is an opportunity to put training into practice.
He said: "I think it has been a really tough pre-season we have had five or six weeks of prepping well and the Moseley fixture and then the Leinster trip at the weekend has given us two good wins under our belt.
"We have a few bits in our performance that we have to tidy up, but we are looking forward to the weekend. Looking back now, no disrespect to Birmingham Moseley but we were hoping that they were going to test us a little bit more, the boys put in a good shift and we got a big win, but it was a little bit too easy in the end.
"Then the Leinster trip at the weekend, it was good, and it exposed quite a lot of our flaws in our game which is something we have got to work on hard this week and whatever team Wasps put out will be no pushovers, I am sure."
---
Less than 24 hours before the Wasps fixture, Coventry Development host Winter's old side Cambridge Rugby at Butts Park Arena (7:45 kick-off), as Ross Stewarts men look to claim their second win in pre-season.
Winter added: "Cambridge have strengthened well, they have a new coaching team in place who will be looking to get off to a good start. The young players that played against bishops Stortford last week put in a really good performance, they will be strengthened by some of the first team players that will step down, as we will be picking around 22 to 23 players in the squad.
"We expect to put out a good side and I think it will be a good test for Cambridge and it will be a good test for us as well and hopefully it will be another win under the belt against my old team."
https://www.youtube.com/watch?v=mPj0Iseu2rc&feature=youtu.be