INCOMING Bath Academy scrum-half Will Flinn joins Cameron Gray and Joe Lane as the first signings for Coventry Rugby's new-look Development squad which next season will be focused on players aged between 18 and 23.
The squad's fixtures will centre on games against other Championship development sides, and the team will train and play alongside the senior squad.
Flinn, 20, has gained A League experience with Bath while studying for a degree in sports performance at University of Bath, and can cover both half-back positions.
Second row Gray, 20, and centre Lane, 19, are both members of the current Development Academy and have been involved with the senior squad on match days as players – Gray making three starts in National League One – or reserves at some point this season along with Luc Jeannot, Kailus Hutchinson, Kwaku Asiedu, James Neal, Will Priestley, Ben Palmer, Max Titchener, and Sam and Isaac McNulty.
"The Development team will include and welcome players with potential to play Championship rugby within the next few years," said director of rugby, Rowland Winter. "We expect a number of players to play 1st XV rugby again next season."
A new Development Academy head coach will be announced shortly, along with more retentions and signings.
Applications are welcome from players aged 18-23 who have Premiership academy or EPDG backgrounds, or National League experience – contact team@coventryrugby.co.uk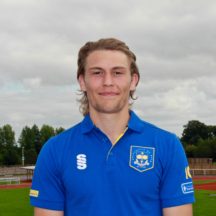 Will Flinn