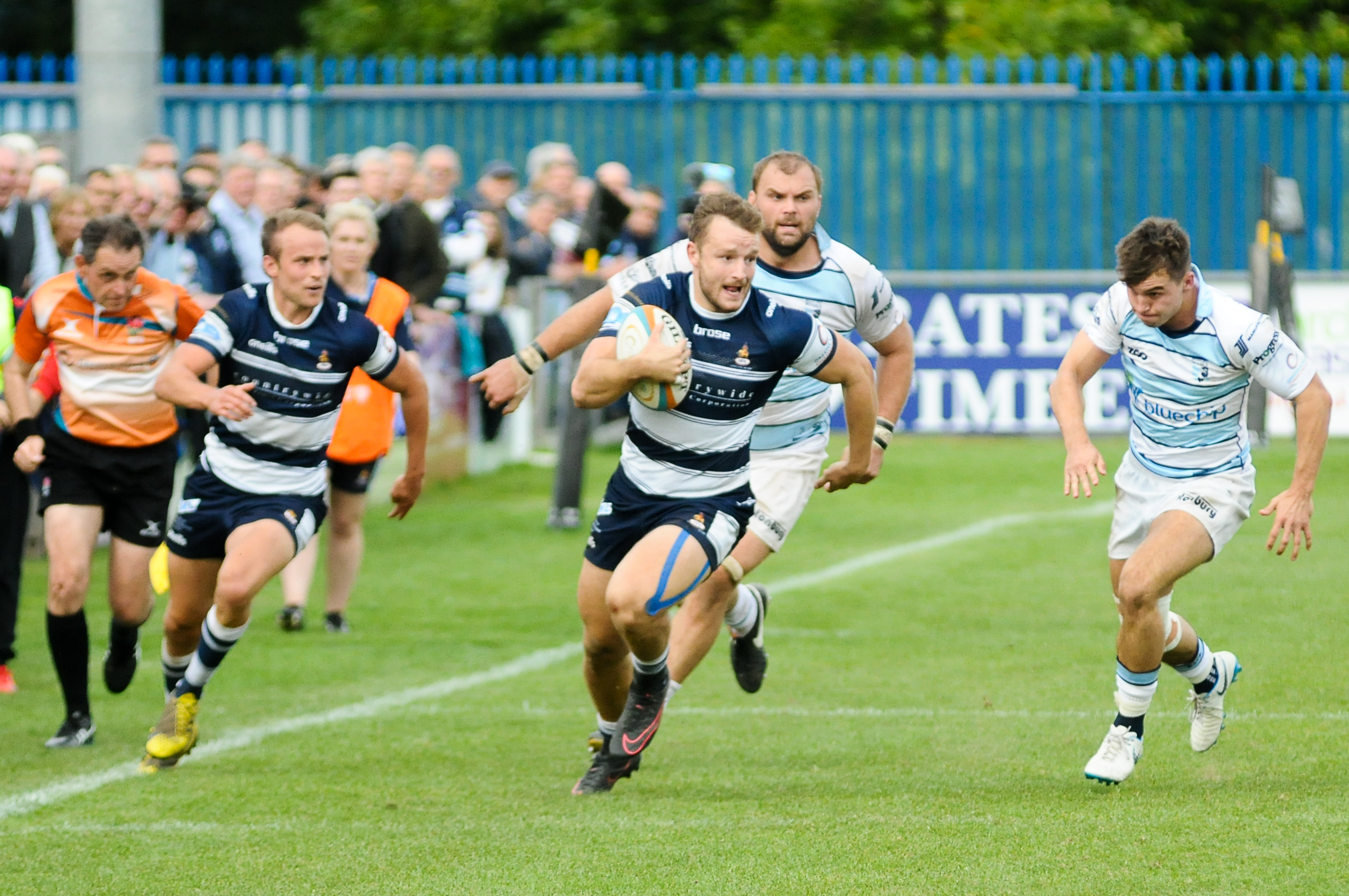 Rob Knox on the charge!
Written by John Wilkinson, photo Nick Meredith
DIRECTOR of rugby Rowland Winter insists there is a lot more to come from the Coventry Rugby squad after Saturday's hard-fought win over Bedford Blues.
Just three games into their return to the second tier, Cov have already beaten the sides that finished third and fifth in last season's Greene King IPA Championship – to the delight of Winter, who says the opening weeks have given the squad a great springboard from which to push forward.
"The Bedford win will give us a load of confidence that we can compete in this league," he said.
"We've shown our character for three weeks now, particularly against Jersey at home when we were down on our own line for so long and then against Bedford when we were dogging it out and holding them, with a sin bin as well.
"It's a tough league and it doesn't get any easier, but we've worked for two years to put ourselves n this position.
"We've got to find our feet and settle in, and when this team does settle then we're going to see a lot more of what we saw in the first half of the Bedford game and really show what we are capable of.
"We need to keep our feet on the ground, and if we can go to Hartpury on Saturday and get a win, then we've had a very good opening month so far.
"David Halaifonua, Heath Stevens and James Stokes should all be back from injury, and we hope to see Max Trimble at some point as well, so it gives us some section headaches of the right sort."
Cov finished with five tries on Saturday, three in a nine-minute spell in the first half which was in direct contrast to the performance at Cornish Pirates six days earlier when they passed up a succession of chances on their way to a frustrating defeat. 
Said Winter: "Credit to Nick Walshe and the coaching work he did in the week. He took it to heart last week that we were creating opportunities and weren't clinical enough, and he's put that right.
"There's still things we've got to work on, but creating opportunities and finishing them off is what we want to see.
"There were one or two moments we had either side of half-time when we weren't clever enough in our play and we put pressure on ourselves. When you do that and give chances to a team like Bedford, you're going to have your backs against the wall for long periods which is what happened as the game went on.
  I think the six-day turn around showed when we were on the back foot for that 15 to 20 minutes in the second half and conceding penalties. Maybe we tired in thought, but we needed to stay calm in those moments when we were in their half, put ourselves in the right areas and look after the ball – two or three times we didn't and allowed them to come through us.
"We nearly threw it away and were clinging on a bit, but to beat a side like Bedford is awesome for us going forward."