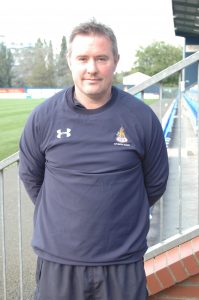 BACKS coach Nick Walshe viewed Saturday's record-breaking win at Old Albanian as a real sign of the team's progression over the National League One season.
Cov had their four-try bonus point in the bag after half an hour, but they kept the intensity in their game and defended staunchly until the final whistle in a 73-8 victory.
"After 75 minutes they were still digging in, they still wanted it, and that's the mentality we want form them," said Walshe.
"They've only got to do it for 80 minutes every week, that's their job – they can make mistakes in training, that doesn't matter, it's on the day we have to see it.
"I'm just as pleased with Saturday, if not more, than the previous week. You know when you're playing against a team like Rosslyn Park, at home, we're going to be energetic, we're going to have enthusiasm and we'll do the things that we've talked about because we need to.
"Its days like Saturday when you worry – I admit I was worried in the week, and I told the boys I was. The last two away games had been good, but I knew we could be poor away from home sometimes, the attitude and stuff.
"We had to have a clear, clear picture of what we wanted to do, and I thought the boys were absolutely outstanding.
"We stuck to what we were doing, what was working – we just stuck to our game plan really well, and this is the progression that I'm looking for.
"That's what you want to see. We were never going to win the league because we were such a new team, and I've said before, we were always going to have ups and downs and some setbacks, but as long as we learn from them they won't become disasters.
"The boys are learning, and we are so pleased with the performance and professionalism of the team. This is the biggest away league win for the club and it speaks volumes for the boys.
"We trained well in the week and they just did what we talked about.
"A few weeks ago we were four tries up in 15 minutes against Hull Ionians and didn't keep the momentum going. This is the big thing – keep doing what we talk about, just do your job well, nothing flash, and people will get the rewards.
"They're working well as a team, working for each other and doing the simple things, and everybody gets their reward in a different way."