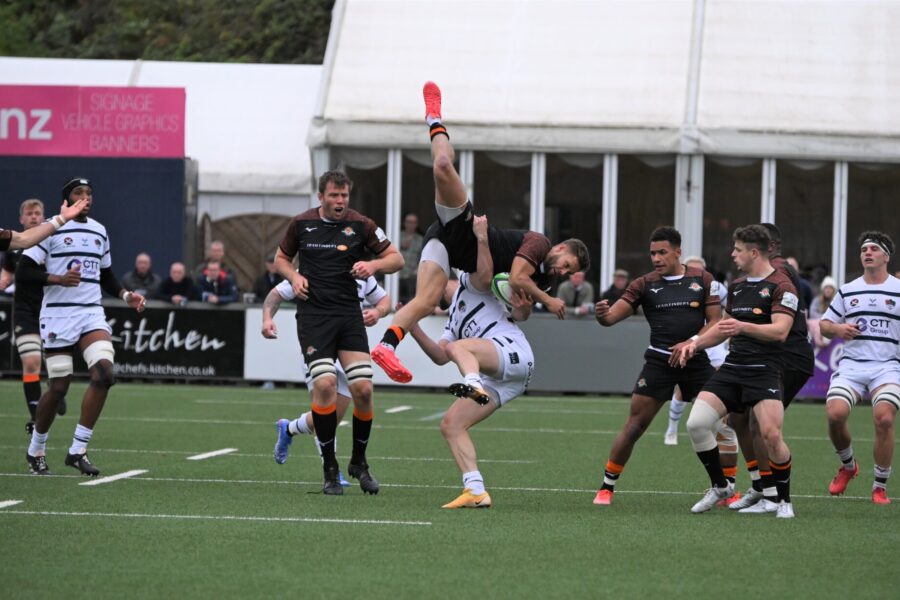 Ealing Trailfinders left victorious in Round 5 of the Championship, breaking Coventry's winning streak at Butts Park Arena.
A fast-flowing and dangerous game for Coventry who displayed a combative second-half. Ealing Trailfinders played to space and with remarkable speed which at times, Coventry couldn't seem to handle.
It was in fact a positive start for Coventry, who put the first points on the board after Trailfinders were penalised for not rolling away. Tony Fenner kicked for goal with no trouble at all and secured the subsequent three points. This left fans hopeful to what they may see next at the Butts Park Arena – but unfortunately, the esteemed London side soon kicked in to gear and a flurry of tries were scored.
Director of Rugby Rowland Winter wasn't expecting an easy game commenting "they're a good side, big squad, well funded, well resourced. There wasn't a huge amount of surprise in what they do, they're ferocious and they come at you time and time again".
Within just minutes into the game after the penalty, Coventry kicked to the 10 meter line and the ball knocked into the hands of Charlie Walker who bound down the left wing. A quick pass to Craig Hampson in at the corner and Trailfinders secured their first try of the game.
The second try came just moments later and clearly displayed Trailfinders dominance only 10 minutes in. A break down in the back line saw Pat Howard break through the gaps feeding the ball to Craig Hampson for his second try. This time, a successful conversion from Steven Shingler placed the visiting team further in the lead with 12 points to 3.
The penalty count began to stack up for Coventry who were increasingly pinged for infringements. It was this in addition to a series of dropped balls and intercepts that allowed Trailfinders to score four more times right up until the whistle, and secure their bonus point from the game. "We weren't smart with our decisions" Winter explained. "I think we've given over 20 penalties today which gave them a great foothold in the game and we were definitely second to react, a lot of drop balls and they ran in majority of the tries in that way".
Half Time Coventry Rugby 3 – 38 Ealing Trailfinders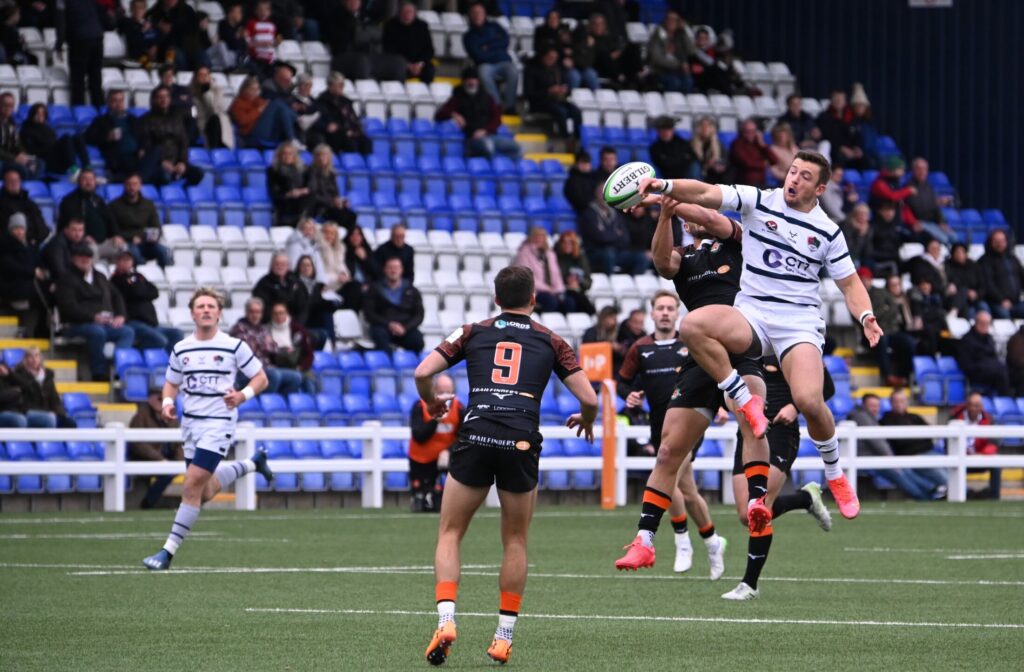 To the dismay of the crowd, Ealing burst into the second-half when winger Charlie Walker intercepted another loose pass. Running down the field from half-way with nobody to stop him. Trailfinders extended their lead 43-3 with 35 minutes still on the clock.
To the avail of home fans, it was Ryan Burrows that finally gave the Coventry supporters something to cheers about. After a series of attempted drives, Coventry's determination paid off and Burrow's was able to plant himself over the line. Fenner handled the conversion with ease adding seven points to board.
Another loose ball allowed substitute Jordan Burns to run meters ahead Coventry's defence for yet another try. Sam Aspland-Robinson – returning from injury for this match didn't take this lightly, receiving a wide pass from Will Owen and able to run clear down the left wing for Coventry's second try. This time, it was young Evan Mitchell that secured the conversion making the score 17-52. As Winter said Ealing came back "time and time again" with more points being scored by Trailfinders just moments later. This time from Jan-Henning Campher who was at the back of the driving maul.
Although the fate was sealed for Coventry 73 minutes in and 40 points down, fans were eager to see more of the thrilling end to end affair with debutant Aaron Hinkley scoring the third try for the Blue-and-Whites.
The visiting team worked up until the final whistle, scoring in the 75th and 80th minute of play, making the final score 24-73.
Coventry demonstrated their ability in the second half, scoring three tries but often lacking composure at the last hurdle. "If we had been like that and put more than just 15, 20 minutes together, the score line would have been a bit different" Winter suggests.
Next week, Coventry are on the road to face Cornish Pirates. Winter assures fans that "we're a better side than what we showed today and next Saturday the team that get the opportunity have got to show that".
Coventry Rugby
T: Burrows, 46. Sam Aspland-Robinson, 67. Aaron Hinkley, 73.
C: Tony Fenner, 47. Evan Mitchel, 68. Evan Mitchell, 74.
P: Tony Fenner, 3
Ealing Trailfinders
T: Craig Hampson, 4, 7, 36. Simon Uzokwe, 14. Patrick Howard, 34. Shaun Malton, 40. Charles Walker, 41, 75. Jordan Burns, 60. Jan Campher, 70. Steven Shingler, 80.
C: Steven Shingler, 8, 15, 35, 37, 42, 61, 71, 76, 80.