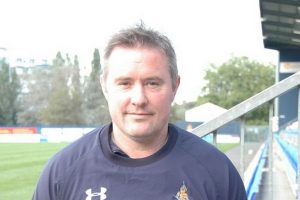 Coventry Rugby Head Coach Nick Walshe has laid down his plans and ambitions for pre-season ahead of the clubs return to the GK IPA Championship.
Walshe, 43, who joined Coventry Rugby in 2016 from Premiership side Gloucester as Backs & Attack Coach has been looking ahead to an exciting pre-season schedule and getting the lads back together after their breaks.
With all of the playing squad, both first XV and Development Academy, have been going through a testing week, measuring their fitness and physical ability.
He said: "It's good to have all the players back in for the testing week that we are running to see how they are ahead of the new season.
"Dependent on how well they do, they will either stay on longer to do more fitness and testing or they will be released for an extra break if they are in good shape.
"We have had this month off, it's exciting to see the squad again, getting the juices flowing and really kicking on in our preparations for the Championship and getting the season going again.
Pre-season begins in August with Coventry's first fixture being played away at Bishops Stortford on August 7, Walshe added how important testing weeks are for a club.
"This testing week the lads will be testing their weights, watt bikes and their explosiveness and it's a good start marker for now to see how much they can improve during pre-season", he said.
"It's important for the lads to test themselves early on and really push their abilities to the limit. This will give them a baseline to work from during our schedule before the Championship season starts.
"Then eventually, when we get into the training, the rugby will take priority and working hard to improve our own game."
Looking ahead to the 2018/19 season and Coventry Rugby's return to the GK IPA Championship, the former Bath scrum-half believes the club have the right attitude and mentality to challenge at the next level.
He added: "We have got a core of the team here, which is great, there hasn't been too many changes of personnel and it's great because we have new guys coming in and adding to the squad which is what we wanted to achieve.
"We have some real quality coming in, the boys will be refreshing with the lads from last year and gelling with the new ones, but we have to hit the ground running.
We need to be fresh and raring to go, there are no doubts that the Championship is a challenging division, but we feel the squad we have assembled are more than capable of this.