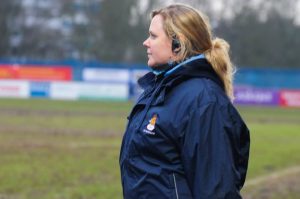 Head of Medical Services at Coventry Rugby, Hannah Walker, gives an in-depth look into her role at the club and reveals every ounce of preparation that the medical team put into ensuring the players safety and fitness are at the best they can be.
"I am very lucky in that I love my job, there are obviously some days where we don't love it quite as much but generally I love it and it's a joy to be part of a special club like Coventry," said Walker.
Since joining the club as Head Physio, Walker has seen the club transform in recent years, with the club hiring new physios, therapists and matchday doctors to aid the department when moving into the GK IPA Championship.
Walker continued: "I lead the medical team and my role consists of 4 or 5 therapists and sports physios and 2 or 3 matchday doctors, so they will all come under the medical department.
"We will also have some sports nutrition and dietitians coming in to help us as well. We link in with all the consultants and sort out their appointments for any players that need it and we also link in with Birmingham concussion clinics."
Despite bringing in a new team to the medical department at the club, Walker admits that the job is demanding and needs attention to detail, even on days off work.
She continued: "During the season, there isn't a day where I don't have some contact with the rugby club, so even if it's a day when I am not meant to be in I will be doing something for the club, arranging appointments or chasing up on injuries and rehab with players.
"It is a 7 day a week job and there will be players contacting you day and night if they have a problem. When there are lots of injuries the work rate goes up but there are times when you can breathe, catch up on managerial things and organise, so it's very varied."
Walker stated that the medical team have been running tests on every squad player during pre-season and will continue to do so during the season, and she insists these tests are good indicators to pick up on minor injuries.
"We try to individualise our rehabilitation and injury prevention programmes, so at the moment we do lots of baseline testing with the players and this is a good opportunity to pick up little niggles that we might be concerned about and that's with both the new and existing players at the club.
"There are always things that can be missed or not flagged up. The work will start with the players from now and once we have all of that done there will be different pieces of information and files sent to players to get them in the best shape possible for the start of pre-season.
"If a player does pick up an injury then again it is really individualised consideration, for example if somebody sprains an ankle then you have to ensure that the rest of their body is fit so that when their ankle is better the rest of them is better and they don't pick up another injury.
"There are lots of work between ourselves and the strength and conditioning guys to maintain everything else whilst you have got the limitation of an injury and then it's going into the processes of stages of healing and recovery for that injury but it's completely different for each player."
Notwithstanding the arrival of new additions to the Coventry Rugby squad, Walker explained that every single player must all go through the same assessment and information process every season.
She continued: "All of the players have given us all of their past or current medical information, history of injuries, history of concussions and again all players do that whether they have been with us before or not.
"They all go through new forms, they also give us their medication history, supplements they take so we can check against anti-doping, so we can make sure we are covered.
"They are all doing their baseline concussion testing, so they know where they are when they are not injured and that helps with return to play and doing things safely if they were to pick up a head injury."
With testing and rehabilitation being so important in modern sport, Walker describes the processes the medical team take when assessing players for injuries and exploring injury prevention.
Walker added: "There are certain tests that we do with the players every day that they come in which are good indicters of a potential injury, so we take those 4 or 5 monitoring tests a day and we look at them before they train.
"We look at their wellness and freshness and that will dictate what that player does in terms of their training volume, so if things have dropped off a little we know that we need to put prevention in.
"That may be reducing their training times or reducing what the content of the training for that player, or we need to do some interventions in terms of physio work, so they are all monitored closely which will hopefully prevent injury."