While getting the campaign off to a good start does not guarantee success in any sport at any level, it certainly does no harm.
It was therefore no surprise to hear experienced back Tony Fenner, whose career has seen stints in Italy, New Zealand and France as well as the Championship at Bedford, acknowledge how significant the first eight weeks of Greene King Championship action are to newly-promoted Coventry.
"This first block of Championship games is really important which is why the result at Hartpury was so disappointing," he said.
"We know it was four points that were there for the taking, and we let ourselves down. If we'd won at the weekend we would have been in a very strong position going into the games against London Irish, Richmond and London Scottish.
"Every game has been a learning curve for us so far. We've performed really well in patches, and if we can do that more consistently and make it click we can be a team that threatens everyone in the league.
"It's a case of needing to pull things together to make sure every single week we play the best that we can."
The blue-and-whites have only had their colours lowered three times in their last 33 home games.
Fenner believes home comforts are key to his club's Championship hopes, but says they must also guard against dangers which lurk on the road.
"We have to make home advantage tell, as this is a great place to play," he said. "The crowd really gets behind you and you get an extra boost from that.
"The Bedford game was played in a brilliant atmosphere, and for me, and the likes of Boults and Jake Sharp, it was doubly special to beat our old club, who are an established Championship side.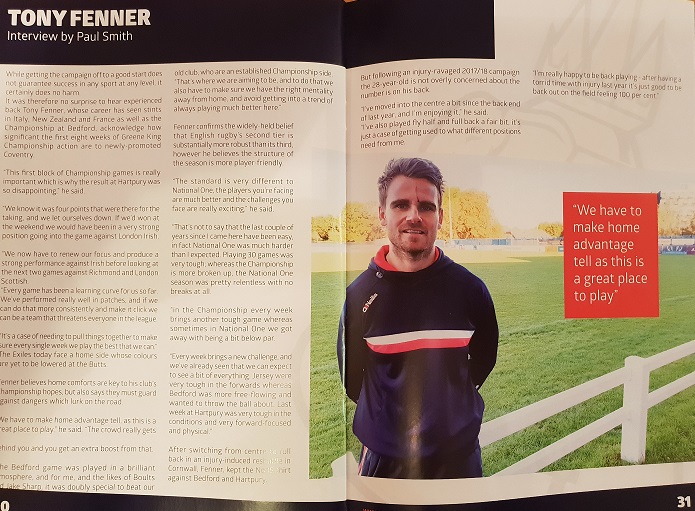 "That's where we are aiming to be, and to do that we also have to make sure we have the right mentality away from home, and avoid getting into a trend of always playing much better here."
Fenner confirms the widely-held belief that English rugby's second tier is substantially more robust than its third, however he believes the structure of the season is more player-friendly.
"The standard is very different to National One, the players you're facing are much better and the challenges you face are really exciting," he said.
"That's not to say that the last couple of years since I came here have been easy, in fact National One was much harder than I expected. Playing 30 games was very tough; whereas the Championship is more broken up, the National One season was pretty relentless with no breaks at all.
"In the Championship every week brings another tough game whereas sometimes in National One we got away with being a bit below par.
"Every week brings a new challenge, and we've already seen that we can expect to see a bit of everything. Jersey were very tough in the forwards whereas Bedford was more free-flowing and wanted to throw the ball about. Last week at Hartpury was very tough in the conditions and very forward-focused and physical."
After switching from centre to full back in an injury-induced reshuffle in Cornwall, Fenner, kept the No.15 shirt against Bedford and Hartpury before moving to the bench for the visit of London Irish.
But following an injury-ravaged 2017/18 campaign the 28-year-old is not overly concerned about the number is on his back.
"I've moved into the centre a bit since the back end of last year, and I'm enjoying it," he said.
"I've also played fly half and full back a fair bit, it's just a case of getting used to what different positions need from me.
"I'm really happy to be back playing – after having a torrid time with injury last year it's just good to be back out on the field feeling 100 per cent."