WITH four tries to his name from the last two games, Coventry Rugby second row Tom Jubb is clearly making up for lost time after a disrupted first half of the season.
Injuries and a concussion meant that the 25-year-old lock had to wait until Cov's game at Old Elthamians on November 11 to make his seasonal bow which only lasted 30 minutes before he was concussed again and forced to come off.
But after regaining his match fitness in four games on loan at National Two South promotion hopefuls Chinnor, Jubb has been back in Cov's starting side for the last four games and followed up his try double against Cambridge two weeks ago with two more in the 42-0 romp at Darlington Mowden Park – the team he played for before joining Cov.
"It was fantastic," said Jubb. "It was one of those days when everything just seemed to click.
"We set our stall out with some really good defence, winning the collisions and being really physical, and when you do that it gives you such a good platform to play off and do all the fancy things to score tries.
"I just seem to be in the right place at the right time to finish things off at the moment. Most of the tries have been pretty much walk-ins, and I've been fortunate.
"The Darlington game meant quite a bit to me – I played there before coming to Coventry and I know some of the guys, so it was quite a big one for me personally, especially because I missed out on being able to play up there last year.
"The really pleasing thing was the fact that our defence was just so solid. We nilled them on their own ground where they were unbeaten, and in my eyes that's a really big achievement.
"We said we wanted to make a statement, to make people look round and pay attention to the result, because they were the one team that we hadn't played and we wanted to dismiss any doubts people had about us a group."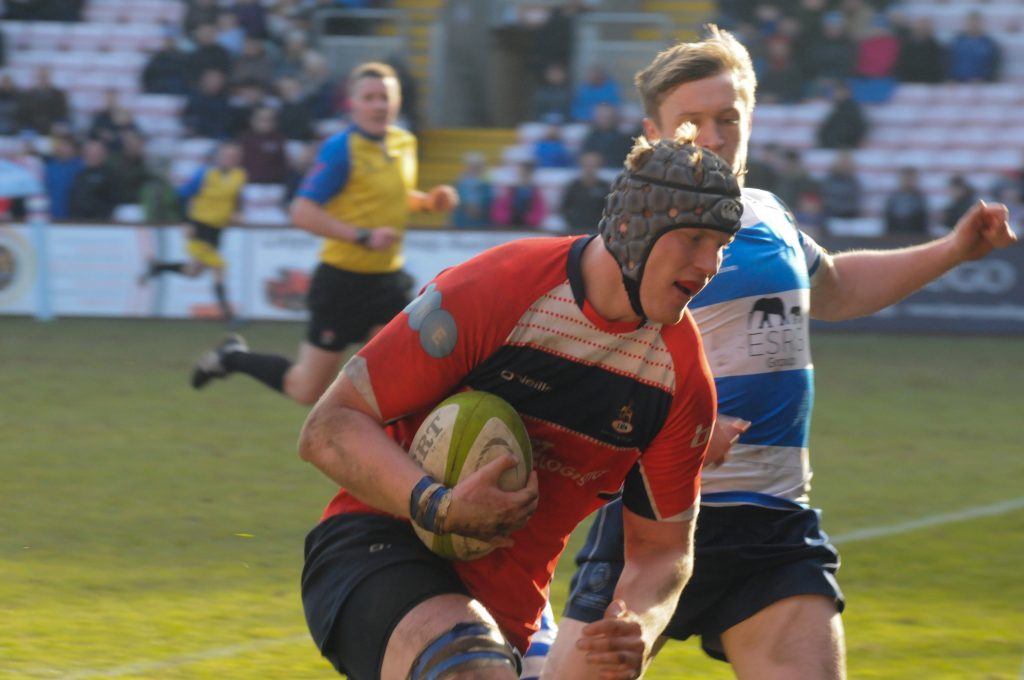 Picture by Nick Meredith
A hamstring injury followed by a hip problem disrupted Jubb's pre-season, and were followed by a concussion as he was forcing his way back into contention.
"It has been a difficult season," he conceded. "I didn't get off to the best of starts in terms of injuries and then I picked up a couple of concussions to go with it.
"The Old Elthamians game was very frustrating. I'd worked so hard to get back fit, and then something comes out of the blue and blindsides you a little bit.
"I've had to be patient. The boys have been playing so well and the team performing to a high level, so I've just had to wait my turn because you don't make changes just for changes sake – it's got to be all about the team, hasn't it?
"I just had to work hard at training and do all the bits off the field in terms of analysis and helping the guys playing at the weekend to prepare well and put in a good performance while personally staying patient."
The time Jubb spent at Chinnor was invaluable, both physically and mentally.
"Going out on loan to Chinnor was really, really helpful," he said. "It was brilliant down there.
"They were really welcoming and it was just good post-Christmas to be able to get back on the pitch and get into my stride, which really helped when I did get my chance at Cov.
"It meant I wasn't going in cold. I'd played some good rugby in games that were really important to them as a club because they've got aspirations to get promoted into our league.
"They were good, competitive games which was far better for me than just mooching around and training.
"It puts you in a much better place so that when you come in, you know that you're ready and it seems to have worked out quite well for me."
Despite his earlier setbacks, Jubb – who made 22 appearances last season, his first at Butts Park – says it has been one to remember.
"It's been a brilliant season despite all the frustrations. It's great to have been a part of what the club's doing and be top of the league.
"We're all here because we want to play and want to be a part of it on the field, so it's great now to actually be out there on the field again and playing my part in trying to get the club moving forward.
"It's great that we've got options all over the place and the competition for places is so strong, because it does mean that coming down the final stretch we've got people ready and raring to go and not carrying the fatigue of having played loads of games."
Cov are 26 points clear at the top of National League One, but Jubb says feet have to be kept on the ground.
"There is a huge amount of excitement, people are aware of where we are at the moment and where we want to go, but it's really a case of unless we focus on each week, it will be all too easy for the bubble to burst," he said.
"We've just got to stay in our own bubble and not worry about anything else outside that, just focusing on ourselves.
"We have another difficult game at Caldy on Saturday. I wasn't involved in the first game against them and I've never played there before, but they've taken a few scalps.
"Again, it's just a question of us being aware of what's going on around us but staying focused on getting it right ourselves because if we do, we showed last weekend that we can take on anyone and do a really good job."
Is Jubb looking forward to a possible return to the Championship?
"The last year I played there was when I was at Plymouth, and it didn't go very well at all. Since then I've had a goal to get back to the Championship and into that environment, and to right those wrongs.
"It will be a very tough year if we get there."