Despite being of relatively recent vintage, the name Cornish Pirates is instantly recognisable to all rugby followers.
And the ambition to once again host such a well-respected club at the Butts Park Arena is exactly the kind of prospect that sustained the Cov faithful through nearly a decade of unforgiving National One trips to some far-flung sporting outposts.
But for one member of the blue-and-white squad last Saturday's game had special resonance, since home scrum half Tom Kessell first picked up a mini-rugby ball, then 15 years or so later spent just under four extremely successful seasons at the Pirates.
"I started there as an under-six before my family moved away to Somerset where I played at Bridgwater then for Newbury in National One," he remembers.
"I then had a couple of years at Plymouth before going back to Pirates when I was 21 and had three-and-a-half really good seasons there.
"All my family are from Hayle, and it was great to go back to play 111 games during my spell there. "You build up a really strong bond since everyone is ten minutes from the training ground, mostly having moved away from their families to Cornwall for rugby, which means you spend lots of time together after training.
"I played with all the current coaches – Gavin Cattle was the scrum half before me – and they are all good friends. Quite a few of the players were also there then including Sam Matavesi and Jack Andrews."
Kessell was drawn away from his native Cornwall by the lure of joining Premiership giants Northampton, where he subsequently spent three seasons immediately prior to moving to the Butts Park Arena where last year he initially saw National One action when on loan.
This varied experience places him well to assess the on-field differences between English rugby's top three divisions.
"At the end of the day it's 15 people against 15," he notes, "but it's really about the skill and calibre of those individuals plus getting the small details of game understanding right.
"Moving up to the Championship where teams are full time, from National One you come across teams who have put a lot more time into their drills.
"It becomes more about risk and reward – the higher you get the more risk there is when things go wrong, so you have to choose the right moment to try things.
"When you get it right you then get your reward, but there are consequences if you don't and one little thing costs you seven points.
"When we get those things right, which happens through endless repetition, we will move forward. As a squad we have only been here a relatively short period, and gelling takes time – perhaps as much as two or three years – before you can say you're really getting things right on the pitch."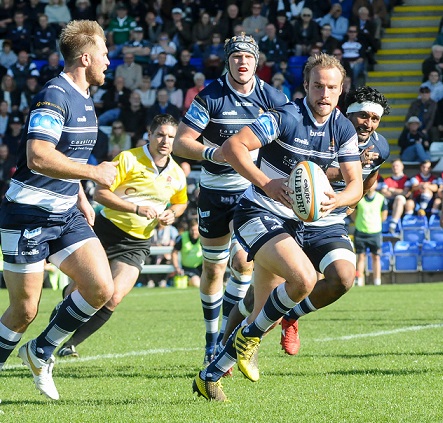 Kessell was clearly drawn 30 miles up the M45 – a journey he now regularly makes alongside Ben Nutley, Pete White and Heath Stevens – by the potential he saw at Cov, about which he remains extremely positive.
"We've all been a bit frustrated this week after letting our good home record, which we are very proud of, slip against Doncaster," he says.
"But overall we're holding our own as a newly-promoted team, and with so many people here having ambitions for us to make more progress there's no doubt that we have the ambition and capability to go further.
"If you look at the squad we have a number of internationals, while the likes of David Halaifonua and Ben Nutley have played a lot in the Premiership in the very recent past. That all suggests we're a very capable team with plenty of people who can perform at a higher level.
"On top of that, off the field, the size of the crowds is really class for a Championship team, and the plans to grow the stadium are very exciting."
The softly-spoken Kessell's most animated moments are saved for talking about his 'other' role at Coventry, working alongside teammates Sam Tuitupou and Phil Boulton as one of the joint coaches of the newly-formed U18 side, with whom he readily identifies.
"It's all about giving opportunity to young players," he says. "I didn't get into an academy and had to go through Newbury to get to the Championship and I believe there are a lot of players around who are capable of going the harder way round to get to a professional environment.
"I really enjoy helping the people who are trying to do that. They are still good players and just because they might not be big enough or strong enough at the moment it doesn't mean anything. "You can't teach someone to understand a game of rugby unless you've watched and learned from other people, so there's a massive opportunity to help people who may have been overlooked and I'm really happy to be involved with that."