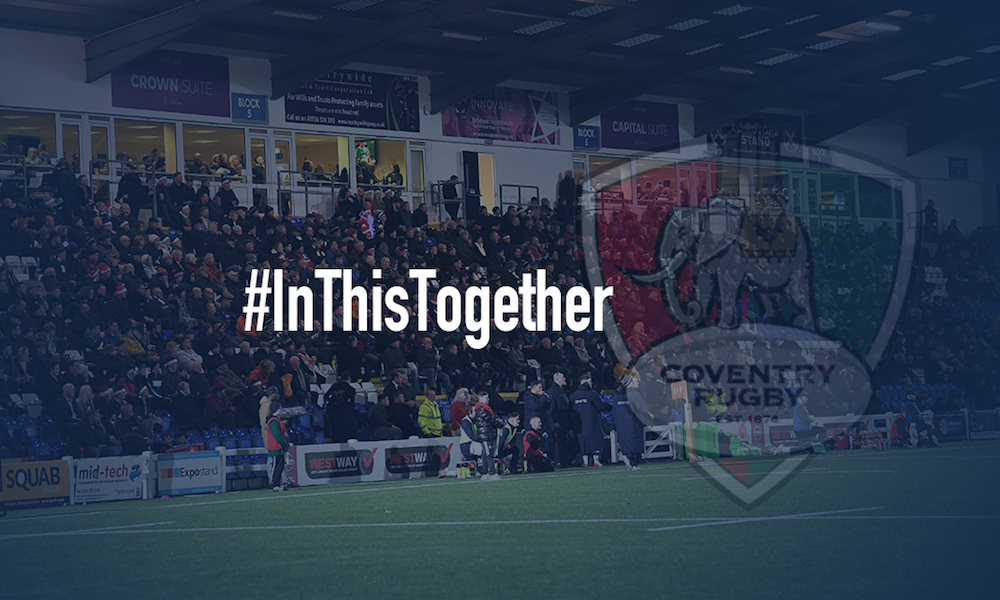 Like every other club in the Championship Coventry Rugby is now having to balance the significant financial challenges posed by the Coronavirus and the forthcoming cuts in central funding with the need to both give value to our Season Ticket Holders and match ticket holders and shift survival work into revival planning ahead of the 2020/21 season.
Executive Chairman Jon Sharp's open letter published last week laid out those challenges – we have lost approx. £750,000 of income with no support from the RFU and continued intransigence of our insurers to honour their business disruption policy – but also re-stated our ambition to remain a professional club competing at the top end of the Championship table, albeit with a reduced budget.
Therefore we are now able to confirm the processes in place for both Season Ticket Holders – including Vice Presidents – and general match ticket holders regarding the previously scheduled last four home matches of the 2019/20 season.
SEASON TICKET HOLDERS AND VICE PRESIDENTS
The club can confirm the following for Season Ticket Holders and Vice Presidents.
A freeze in Season Ticket prices for the 2020/21 season
In lieu of the four cancelled games from 2019/20 we would like to offer you an additional ticket to four games in the 2020/21 campaign. This will only be available to 2019/20 Season Ticket Holders who renew for next season and will not include the Saracens game
We will be opening 2020/21 Season Ticket renewals shortly and will give you more details on how you will be able to claim the additional tickets when we send you your Season Cards later in the summer.
We are going to be introducing some new features and events to the Season Ticket package, more details of which will be announced in the near future.
MATCH TICKET HOLDERS
The club is now able to offer you the ability to exchange your booked ticket(s) for an alternative match before this Christmas at Butts Park Arena in the 2020/21 campaign, subject to availability.
A number of supporters who had booked tickets for one of the remaining matches in 2019/20 have already approached the club with similar offers, and we are very grateful both for their understanding and the desire to come and support the team next season.
We will keep your original orders on file but would ask that you also keep hold of your booking number to make the re-booking process as straightforward as possible.
Due to the ongoing nature of the Coronavirus pandemic we do not know when the new season's fixtures will be announced, but we wanted to make you aware of our plans in advance. Once the fixture list has been announced we will be in contact to arrange your alternative booking.
ENQUIRIES
This information was emailed to Season Ticket Holders and match ticket bookers last Friday (April 24th). If you did not receive it, or have any queries related to either of these please email enquiries@coventryrugby.co.uk and we will endeavour to answer them as quickly as possible.
In the meantime please stay safe and healthy, and we look forward to welcoming all our supporters back to Butts Park Arena in 2020/21!