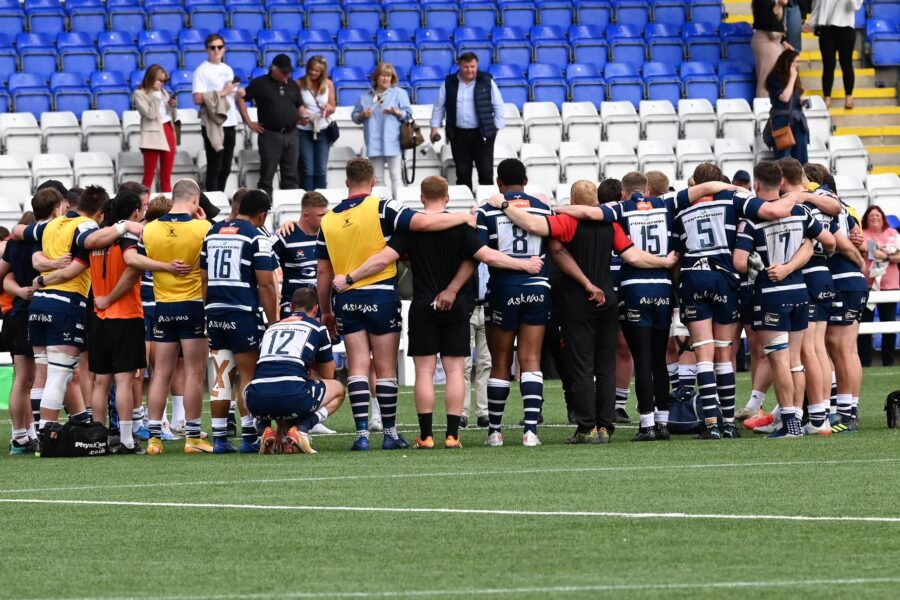 Here we are, and for the final time this season. The most spirited of cup runs will end, one way or another, in the capital as we take on Ealing Trailfinders in the final of the Championship Cup. Plenty of Coventry support is expected to journey to the Trailfinders Sports Club this Saturday afternoon – and here is the team that is charged with doing the unthinkable, and slaying the giants on their own patch in Vallis Way:
There is only one change to the starting line up that beat Jersey last weekend in the tightest of semi-final's; an identical front row of Trinder, Poole and Boulton will start Saturday's game, whilst behind them the twosome of James Tyas and Adam Peters once more create the second row pairing.
The one and only change to the XV that starts the final comes in the back row. Ryan Burrows returns to the side, after a frustrating few weeks out injured wondering if his professional career had one last remaining chapter, or had come to an abrupt end. Burrows dons his familiar 8 shirt and will captain the side, meaning the impressive Fred Betteridge will be sure to make his impact from the bench as Senitiki Nayalo and Josh Bainbridge occupy the 6 and 7 jersey's respectively.
The duo of half-backs that got the job done last week remain, in the form of Josh Barton at 9, and Tony Fenner at 10. Plenty of emotion is bound to surround the triplet of Fenner, Boulton and Burrows as they take to the field knowing it will be their last game as professional rugby players having all announced their retirement at the end of this current campaign.
The centres to take to the pitch at the Trailfinders Sports Club are Rob Knox at inside, and Andy Forsyth at outside centre. Louis Brown is the familiar face in the fullback position, and is joined on the wings by James Martin and Rob Stevenson.
The bench, which will be hugely important on Saturday afternoon, includes the front row replacements of Suva Ma'asi, Luc Jeannot and Jake Bridges. Rhys Thomas and Fred Betteridge will provide options in the loose, whilst Fin Ogden, Tom Stanton and Sam Aspland-Robinson once again act as cover in the backline.
1.Toby Trinder 2.Jordon Poole 3.Phil Boulton 4.James Tyas 5.Adam Peters 6.Senitiki Nayalo 7.Josh Bainbridge 8.Ryan Burrows (c) 9.Josh Barton 10.Tony Fenner 11.James Martin 12.Rob Knox 13.Andy Forsyth 14.Rob Stevenson 15.Louis Brown
16.Suva Ma'asi 17.Luc Jeannot 18.Jake Bridges 19.Rhys Thomas 20.Fred Betteridge 21.Fin Ogden 22. Tom Stanton 23.Sam Aspland-Robinson