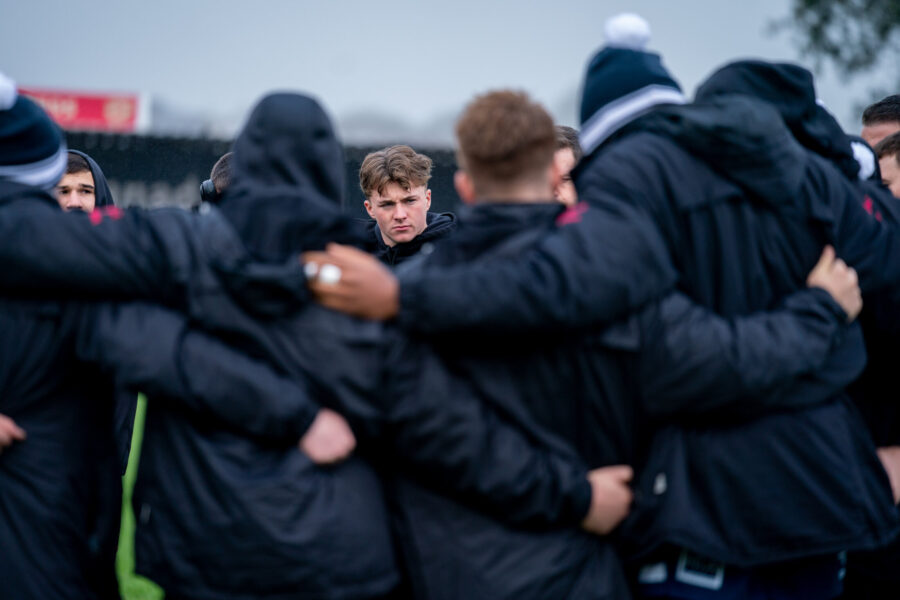 Coventry Rugby has named their team for the friendly fixture against The Royal Air Force due to take place this evening. The team is made up of players from Coventry Rugby Senior Academy, Coventry Moulton Academy as well as a few guest players and will showcase the talent in the Club's pathway programmes.
Senior members of the Coventry Rugby squad that have been named in this evening's lineup include James Martin and Joe Richardson. Martin was on loan to Cambridge at the beginning of the season but has since returned to the squad. Martin will start this evening positioned on the left wing. Joe Richardson has been with the club from the beginning of the season and is on loan from Worcester Warriors. He has made many appearances for the Blue-and-White's this year and will start tonight at hooker.
From the Senior Academy, Tom Ball, Fred Betteridge, Evan Mitchell, Louis James, Ollie Betteridge and Joe Brock have been selected to start against the RAF. Tom Ball has featured in eight senior squad selections this season and has consistently impressed with his performances from the bench. Because of this, Ball has been selected to Captain the squad for this evening and is positioned at openside-flanker.
Fred Betteridge, Evan Mitchell and Louis James should all be familiar faces to the fans this evening, having also been regularly featured in squad selections for this League campaign. Betteridge will run out wearing number 8, Mitchell is positioned at fly-half and James will start at outside centre.
Ollie Betteridge – younger brother of Fred, has been getting regular game time on loan to Bishops Stortford in National 1. The younger Betteridge will start at inside centre. Joe Brock has also been on loan this season to National 2 South club, Leicester Lions. Brock will start this evening at fullback.
A large selection of the squad comes from Coventry's partnership with Moulton College – Coventry Moulton Academy. Players from CMA will be on one of two pathways; either the University programme or the U19 college pathway.
Ollie Stone, Josh Marsden, Finn Ogden, Zac Byers, Cameron Taylor, Dan Lovell, Sam Peppit and David Opoku-Fajour are all students on the U19 Pathway.
Ollie Stone, David Opoku, Josh Marsden and Sam Peppitt all play for Kenilworth Rugby Club under the coaching provision of our very own Phil Boulton. Josh Marsden and Sam Peppit both also feature for Warwickshire U20. Stone and Marsden will join Joe Richardson to make up the front row, whilst Opoku and Peppit look to make their start from the bench.
Finn Ogden and Cameron Taylor both play for Leicester Lions. Ogden was part of this year's East Midlands U20s team and starts this evening at scrum-half, Taylor looks to make his start from the bench.
Zac Byers also plays for Kettering Rugby Club and is currently part of East Midlands U20s. Dan Lovell also part of this year's East Midlands U20s plays for his childhood club Towcester. Both have been named on the bench.
Ray Kanyasa and George Hallam are both currently part of the University programme. Kanyasa represented Sweden U18 and currently plays for local club Bugbrooke, Hallam plays club rugby for Market Harborough 1st XV. Kanyasa starts this evening on the second row at number 5 lock whilst Hallam looks to make his start from the bench.
Making our way onto our guest players for this evening… Louis Beer is a former Coventry Academy member and Moulton College student. He has represented England Counties U18 and Northampton Saints Wanderers. He is currently playing at Cambridge Rugby and joins the squad this evening on the bench. Another ex-Coventry Academy member, Chris Romano joins Beer on the bench. Romano was selected for the Midlands U18s and England Counties U18s the same year as Louis James butunfortunately, didn't tour due to Covid.
Matt Warning is a former Moulton College Student and has represented Saints U18s. He currently is with Cambridge Rugby Club and starts this evening at No.4 lock.
Quinton Blyth is a current Banbury Rugby Club 1st XV squad player and former Cardiff Met student. Blythe will start this evening at number 14 on the right-wing.
Callum Burns and Duane Willemson are both Northampton Saints Senior Academy players. Burns plays at hooker and has capped for England U20s. He looks to make his start from this bench. Back-rower Willemson is the cousin of Fiji/Leicester winger Nemani Nadolo and starts at blindside flanker this evening.
Coventry Rugby vs The Royal Air Force
Butts Park Arena
Wednesday, February 23rd, 2022.
Kick-off 7.45 pm
15 Joe Brock; 14 Quinton Blythe; 13 Louis James; 12 Ollie Betteridge; 11 James Martin; 10 Evan Mitchell; 09 Finn Ogden; 01 Ollie Stone, 02 Joe Richardson, 03 Josh Marsden, 04 Matt Warning, 05 Ray Kanyasa, 06 Duane Willemson, 07 Tom Ball (C), 08 Fred Betteridge.
16 Callum Burns, 17 Zac Byers, 18 Chris Romano, 19 George Hallam, 20 Cameron Taylor, 21 Dan Lovell, 22 David Opoku-Fajour, 23 Louis Beer, 24 Sam Peppitt.
Thank you to Coventry Rugby Foundation for helping put together this fixture as a gift to our community.