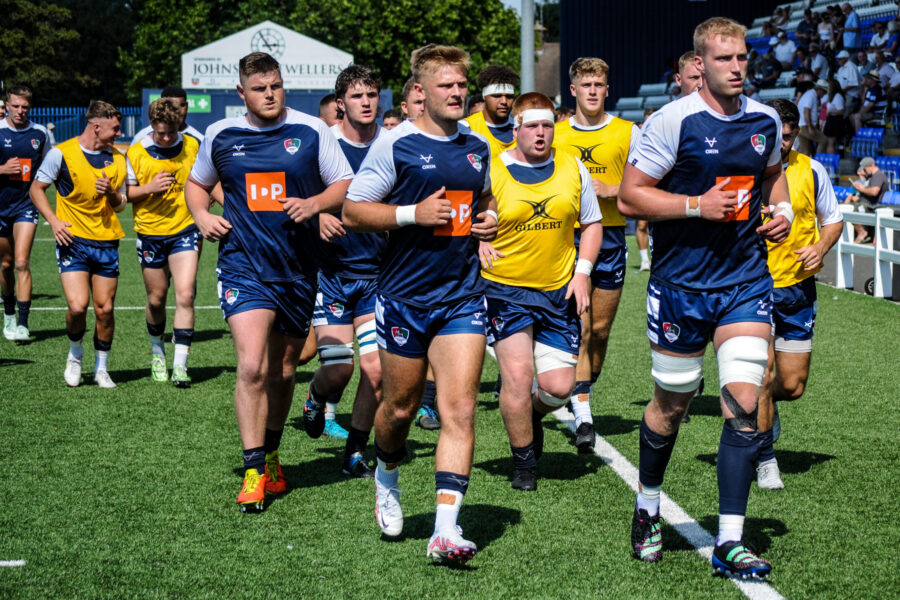 Rarely is a Pre-Season 'friendly' fixture so eagerly anticipated, but when it is two historic rivals reigniting a 'derby-day' duel with a blockbuster past – anticipation can be expected.
Birmingham Moseley travel to Butts Park Arena this Saturday 20th August, to provide the second test of the season for Alex Rae and his new squad. The National League One side will be looking to help recreate some of the entertaining, yet ferocious, derby matches that have taken place between the two Midlands-based clubs through the years.
Whilst Pre-Season is still very much in play, and the aim of the game is to provide much-needed minutes on the pitch, Alex Rae has named a slightly reduced 30-man playing squad, to that of the group that took on Welsh side, Merthyr RFC, this time last week.
There are new signings in virtually every department, as the new squad takes another step towards gelling in to a well-oiled Championship machine. Toby Trinder and Suva Ma'asi are joined by new man, Harry Seward in the front row. Seward joined Coventry from Championship rivals, Ealing Trailfinders over the summer, and has been impressing in training.
Rhys Thomas, who frustratingly spent much of the previous campaign on the sideline injured, will pack down next to George Smith in the second row. Smith came to the club on a trial basis earlier in the summer, and caught the eye of the coaches before putting pen to paper and becoming a permanent member of the squad.
A familiar back row of Adam Peters, Josh Bainbridge and Fred Betteridge is the perfect contrast to an all-new half-back pairing. Former Jersey man, Will Lane, teams up with our new Australian, Pat Pellegrini, to create an exciting midfield.
Ollie Betteridge impressed last week against Merthyr, and has been rewarded with a starting position this Saturday. Ollie will share the centre channel with Will Wand. Wand came to Coventry from Cambridge in National One, and his speed and agility was clear to see in his debut last week.
Both full-backs that played a week ago will start on the pitch tomorrow. Louis Brown retains the 15 shirt, whilst Will Talbot-Davies, who was eye-catching last week, will shift to the wing, where he is also extremely comfortable. The former Dragon will be looking to link up with James Martin who starts on the opposite wing.
With essentially another team ready and waiting to come on to the pitch in the form of Coventry replacements, make sure you keep an eye on the action on the sideline to make sure you're aware of who's coming and going.
Four front rowers are waiting in the wings, in the shape of fresh faces; Danny Southworth, Will Biggs, Ollie Andrews and 2022/23 captain, Jordon Poole. James Tyas, Tom Ball and Harry Stone conclude the forward replacements, and will be looking to bring plenty of firepower to proceedings.
Young half-backs, Fin Ogden and Evan Mitchell will be looking to steer the ship when they make their impact from the bench. Will Rigg and Lucas Titherington both made their Coventry debut a week ago, and will get another crack in the centres when called in to action on Saturday. Finally, Louis James, Shea Cornish and Joe Brock will provide cover in the back 3 and complete the squad to take on Moseley.
We look forward to welcoming you all to Butts Park tomorrow, on what is sure to be a great day for both players and supporters. Please avoid any issue with the local roadworks and make your way to the stadium nice and early.
1.TOBY TRINDER 2.SUVA MA'ASI 3.HARRY SEWARD 4.RHYS THOMAS 5.GEORGE SMITH 6.ADAM PETERS 7.JOSH BAINBRIDGE (C) 8.FRED BETTERIDGE 9.WILL LANE 10.PAT PELLEGRINI 11.JAMES MARTIN 12.OLLIE BETTERIDGE 13.WILL WAND 14.WILL TALBOT DAVIES 15.LOUIS BROWN
16.DANNY SOUTHWORTH 17.WILL BIGGS 18.JORDON POOLE 19.OLLIE ANDREWS 20.JAMES TYAS 21.TOM BALL 22.HARRY STONE 23.FIN OGDEN 24.EVAN MITCHELL 25.LOUIS JAMES 26.WILL RIGG 27.LUCAS TITHERINGTON 28.SHEA CORNISH 29.JOE BROCK