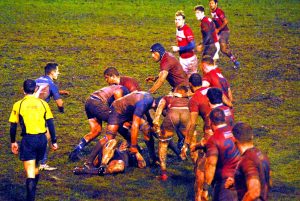 A JOB well done was the verdict of director of rugby Rowland Winter after Coventry opened 2017 with a 37-14 win at Macclesfield.
Cov overcame a slow start and a heavy pitch on a murky, wet day at Priory Park to score five tries and consolidate sixth place in the National League One table.
"To have a two-week break, come away from home to a place like Macclesfield in poor conditions and get the five points is a good result," said Winter.
"We were rusty and had a slow start, and the Christmas break probably showed, but we turned it round well and found a way.
"We went round them and over them, but most of the time we went through them and showed good patience in our play
"I think we could have put another 20 or 30 points on them, but I'm happy with what we've done in these conditions.
"There were a few errors which was a little bit to be expected on the day, and we had a couple of people come into the team who haven't played with us for a while, but I'm happy with five points and a win away from home which is important and was the target.
"Macclesfield are scrapping for every point they can get and they make it a very difficult place to come to. With that mind set and the conditions, it made it a tough day.
"Thanks, too, to our Supporters Club who kindly let us switch to their coach when the team bus had a problem on the way. It enabled us to get there without disrupting our preparations, and the lads appreciated it – hopefully we put on a good show for them.
"Now our mind focuses towards Blackheath next week, we owe them one from our performance down there earlier in the season."
Added Winter: "There were lots of good parts to our play – the driving maul from the halfway line, a cross field kick for a try which illustrated our ambition to play, and we didn't wrap it up too much, we kept it moving. It was a good team effort."
Sickness in the camp ruled out Max Trimble and Owain James from the selected squad, Rhodri Adamson – on the wing – and Brendan Burke coming in – while Josh Peters made his debut in the second row after an early injury to Tom Jubb.
"Josh got a good 50 to 60 minutes under his belt which is pleasing going forward to next week," said Winter. "He's a talented player but has been plagued with injuries, and it's key now that he sticks a few games together. This was a good start for him."