COVENTRY Rugby's medical team play an important role in the team's progress on the field, and thanks to Coventry Rugby Supporters' Club and its partners, they are now working in facilities which fully complement the club's ambitions.
A £3,500 project to expand and refurbish the treatment room was funded by the Supporters' Club with backing from city businesses Builders Supply Stores, Coventry Plumbing & Heating Supplies and Akbars Indian Cuisine.
CRSC secretary Quent Melhuish worked as project manager, with additional assistance in the completion of the work from Graham Clews of Clews Plumbing & Heating, Derek Cook, Brendan Burke, Steve Thomas, Steve Hood and Rich Cunningham.
"It's now a lot more professional, clean and fit for purpose," said delighted head of medical, Hannah Walker. "It's up to Championship standard, and a massive thank you is due to the Supporters Club for helping us to get a facility where we can get some good work done in an important area."
As a thank you, those who supported the project were invited to a guided tour of the playing-side facilities including the medical room.
Said Ian Clark of CPHS: "We are absolutely delighted with what has been done, more so for the medical staff who are in there using the facility. It's important for them to have the correct environment to be able to assist Rowland Winter and the coaches.
"It's absolutely a worthwhile investment, and from my point of view, I've got a First Aid background so it's great to see the facility and the club moving forward this way."
"It's fabulous and I'm very impressed to see the medical room," said Akbars proprietor, Naz Miah. "It's very important to the players and we are happy to help in this and support the community."
"I think it's brilliant to see the ambition in the club in terms of looking ahead to promotion and having the medical facilities and other things in place," said Mike Ballinger of Builders Supply Stores.
"I saw the club when the stadium was being built, we've had our ups and downs obviously, but there's a real buzz now and a feeling of excitement and expectation which is great."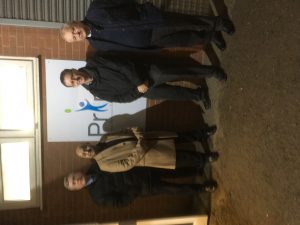 Project supporters, from left: Mike Ballinger (Builders Supply Stores), Naz Miah (Akbars), Ian Clark (CPHS), Julian Ballinger (Builders Supply Stores).