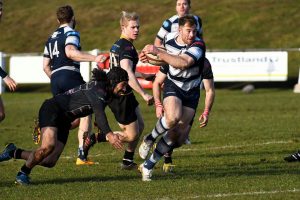 Coventry Rugby ace Heath Stevens insists that the Blue and White's must rise to the challenges that the GK IPA Championship throws their way.
He said: "I'm excited about testing ourselves against some good teams next season, the club have picked no bones about where they want to go, and we are back in the league that we want to be in.
"I am looking forward to getting back out there on the pitch and giving the best account of ourselves, we need to enjoy our rugby but also realise that the hard work starts now."
Stevens, 25, made 19 appearances during Coventry's title-winning season, whilst also suffering a freak leg break in November 2017 and insists that the club have a strong pre-season schedule that will prepare them for the Championship.
"Our biggest challenge is getting everyone in and working from the same page, learning our game play and patterns," Stevens continued.
"The Moseley and Wasps games are massive as they are local rivalries but it's a chance for the lads to lay down a marker and a chance to put their hands up for a starting shirt.
"Players will have points to prove against Wasps because they are where we want to be and it's a chance to see if we can compete at a higher level and I am confident we can do that."
Stevens admits that the time off that players have had has been energising and will prove to be vital as the club moves into pre-season.
"The extended break has been refreshing, we had a long season last year playing 30 games in National One and it was nice to have an extra break.
"We are moving into the Monday and Tuesday morning sessions and then on a Thursday evening, it's a change for the lads that were here last year but it looks good and its well managed.
"It looks like it's going to be good fun but it also looks intense and it needs to be that way because we are stepping up a level and that is massive."
The hard-hitting centre was most recently appointed first XV captain by Rowland Winter and his coaching team with an expectancy for the 25-year-old to draw upon his previous experiences in the second tier.
Coventry Rugby came under its first preparation of pre-season last week with Max Hartman and Hannah Walker leading a testing week for the first XV and Development Academy players.
Stevens added: "By all accounts it went well, everyone came back in good shape and it was good to see some numbers being broken by the lads on their results from last year. The numbers have gone through the roof on the watt bike and power testing.
"It's good to get everyone off that starting block again and we will hopefully see some good numbers going into the pre-season and the first league game. It's a good foundation to start from and Max should be happy with where the boys are.
"We had to do an upper body strength test which included bench press and a maximum weight on the pull up bar, followed by a maximum output on the watt bike which we had to do for 60 seconds to see how many watts we could do.
"We then finished off with a 6-minute time trial where we had to get as many metres as we could, we were hanging on for dear life at the end, its brutal testing but the boys were producing good numbers, and everyone has come back looking well.