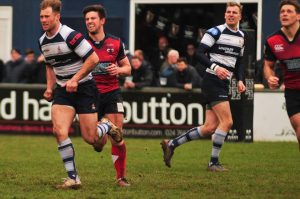 Phil Boulton will continue as Club Captain for the new season and will now work alongside Heath Stevens who will take on the role of 1st XV Captain, as Coventry Rugby prepare for the Greene King IPA Championship.
Director of Rugby, Rowland Winter, describes how both players will work together in the new campaign.
He said: "It is important that we continue to evolve and grow the leadership group by appointing a captain of each team as we add more playing sides to the club.
"Over the course of pre-season, we will appoint a Development XV captain and an U18 Captain when their season starts in September.
"Phil and Heath complement each other well, they both work hard and lead by example, and they have been key for the team's progression so far."
Stevens re-joined Coventry back in 2016 and has since become a centurion for the club last season after Coventry's win over Cambridge in February.
"As Club Captain, Phil represents the whole club well, he is one of our most experienced senior players and his role focuses on providing guidance and direction for all players across the club," Winter continued.
"Heath is now the most capped Coventry player in the 1st XV squad, he epitomises what this team is about in character, drive and professionalism.
"Both players will have to work hard to get into the match day squad, with depth and competition in each position, but they are supported by a number of our current and new players who will provide strong leadership for the team as well."
Boulton, 31, who recently won the Supporters' Player of the Season award, expresses his pride and enjoyment in his role.
"I really enjoy being Club Captain, it is both an honour and a privilege to represent such a famous and prestigious club. There are now so many players with leadership qualities across the squad, and I am really looking forward to working with Heath this season.
Stevens, 25, who has also agreed a contract extension until 2020 is excited about the new season and the challenge of leading Coventry in the Championship.
"I am delighted to have extended my contract here and I am really excited about the journey the club is on and the role I can play for the team. It is a great honour to be 1st XV Captain and I am looking forward to working alongside Phil, who has led the club incredibly well.
* The 'Early Bird' 2018-19 Season ticket deal ends at the end of May, please contact the club asap to take advantage of the discount!