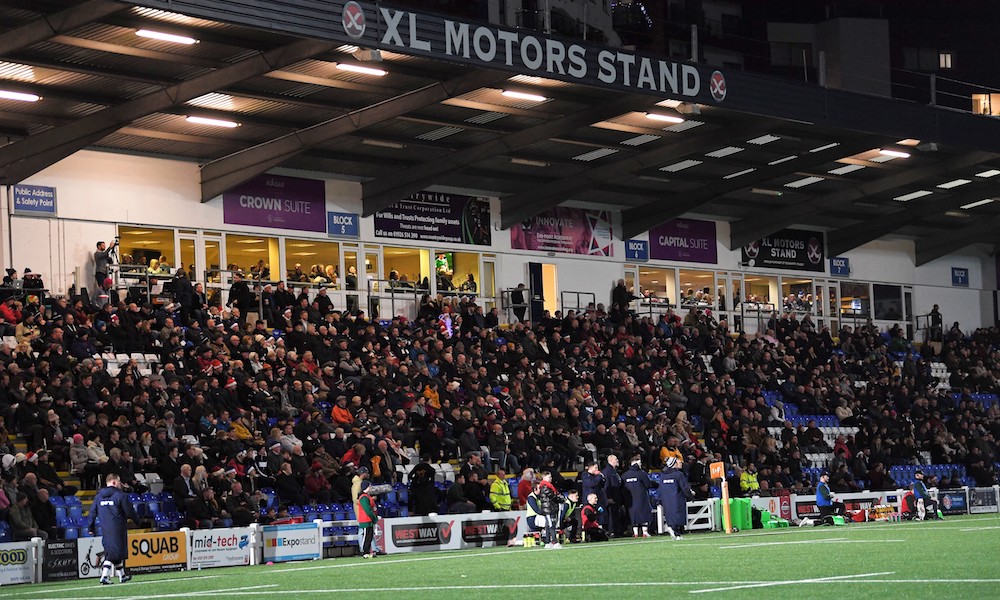 The owners and senior managers of Coventry Rugby and Cornish Pirates have issued the following response to the RFU's halving of central funding to the Championship clubs for the 2020/21 season.
Collectively we are very disappointed with many aspects of the RFU's decision to drastically cut the funding of the Championship clubs, which could very well have a devastating impact on some of our fellow clubs, putting livelihoods and careers at risk, and which could also put some clubs out of business.
The cuts in funding, which represent more than 50 percent once you take into consideration the withdrawal of reward funding and travel assistance for the Championship Cup – which in doing so puts the viability of this competition into question – are completely disproportionate, especially when compared to the 10 percent cuts made to the community game. In an ideal world investment would be going up, not down, but if cuts are to be made then they should be done so in an equitable manner.
The Championship is an RFU tournament, meaning that the clubs do not control the league's sponsorship rights; these are held by Twickenham. But over the last few years we have received no Championship-specific sponsorship funding, no Championship-specific TV broadcast deal, or any promotion by Twickenham of the community work which is being done by our clubs, such as wheelchair rugby, suicide prevention, and helping older people with dementia, and could also suffer as a result of these cuts.
For the RFU to then use their own failure to deliver on these as a justification for unilaterally decimating the Championship is nothing short of outrageous, not least because it has come from people – CEO Bill Sweeney and Director of Performance Rugby Conor O'Shea – who have been in post for only a short time, in Conor's case just a matter of weeks and with Bill only having been in the sport for six months. Furthermore there has been no formal audit process regarding the criteria they have used, and aside from the England-qualified player targets none of the criteria had funding related to them.
The Championship has also not had the same resources as Premiership Rugby to manage and promote ourselves, while the RFU has been focused on the community game and the England national team.
Nevertheless the Championship has long been an important stepping stone in the careers of players, referees and coaches alike. Players such as Jonny May, Maku Vunipola, Tom Youngs and many others spent plenty of time gaining experience in the Championship which helped put them on the road to succeeding at the very highest level of English rugby.
Meanwhile referees such as Greg Garner, Luke Pearce, Matthew Carley, Ian Tempest and others officiated many times in the Championship as part of their own pathway to the international stage.
The Championship also offers a career path to those players who develop later than others and are released by Premiership Academies in their late-teens, as well as those players who are older but who still have plenty to offer in their playing prime. Both of these will now be at risk as clubs are forced to rationalise.
This is why Cornish Pirates and Coventry Rugby started to put together a blueprint for a viable and dynamic future of the league, with Ealing Trailfinders joining this process at the start of 2020. This blueprint is attached to this statement at RFU Championship Blueprint v4 06-02-20; it is a shame that we have not had the formal opportunity to present it to the RFU's management group despite them having a first version sent to them on December 7th.
We believe that there is considerable potential within the league, whether in our player identification and development; the opportunities to play an important role in the growth and development of Constituent Bodies and England's aspirational teams (England Counties, etc); investing in the innovative community and outreach work; and providing a permanent link between the university and professional game.
Many of our clubs have also been investing in facilities or have plans to develop their grounds to provide better experiences for players and supporters alike.
All of this is now at risk thanks to the actions of an RFU chief executive and board which clearly have a lack of understanding about the value we bring to our communities and English rugby.
We are not going to be going away quietly. The RFU is one funding option but we will now be actively continue discussions with other potential funding partners whereby we can achieve our ambitions of being a vibrant, dynamic and entertaining league in our own right which makes a clear and demonstrable contribution to the growth of English rugby as a whole.