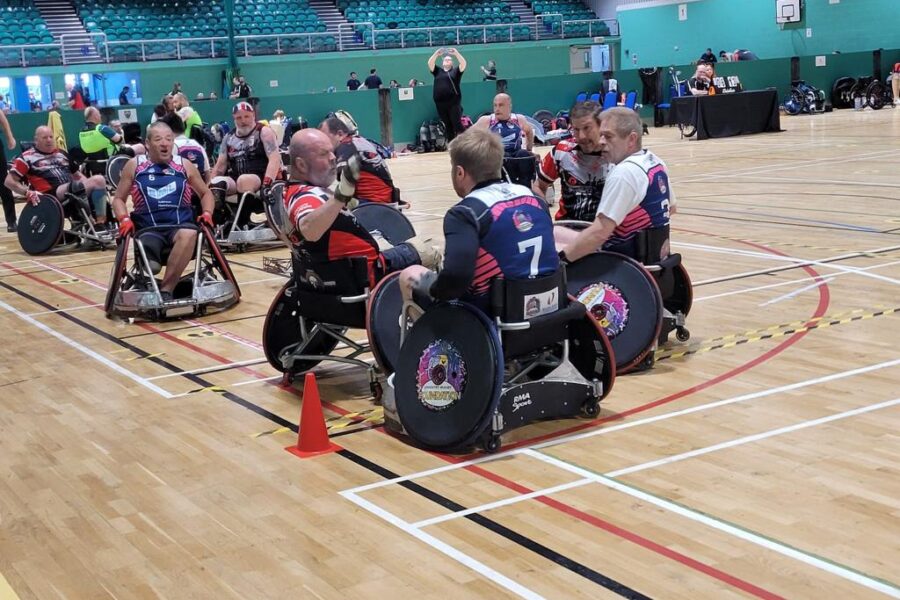 Coventry Rugby's official wheelchair rugby team, Coventry Stampede got off to a strong start on Sunday in the first GBWR Rugby 5s League tournament of 2022.
The Championship consisted of 6 teams, who competed in a pool system at Stoke Mandeville Stadium in Buckinghamshire. It was a busy weekend with the Premiership and League 1 Division competitions also taking place. Pool A of the Championship consisted of Bournemouth Lions, Team Solent Shark and Berkshire Banshees, which resulted in The Stampede competing in Pool B against North East Barbarians and Endeavour Punishers.
Head Coach Mandip Sehmi discussed the results commenting "we had a great start in our first game against the punishers (30-17) and the whole team performed well. The Barbarians prove a different challenge, they went up three tries up in the first half and we had to dig deep in the second half to grind out the win (25-21)".
After securing the top spot in Pool B, the Stampede progressed into the final against Pool A winners; Bournemouth Lions. Sehmi commented "The team started flat and never got out of the blocks, the Lions played an amazing game and took a substantial lead. We made a lot of uncharacteristic errors which made it hard to get back into the game. A tough way to end the day". Final score: 15-33.
Although a disappointing result Sehmi went on to explain "we're a third of the way into the series so we have the opportunity to re-group and improve for the next competition. Everyone gave their best efforts but we came short in the final, still lots to play for!"
A huge thank you goes to all of the volunteers who support the team at the tournaments, "we wouldn't be able to do it without them all" Sehmi explained.
If you would like to try wheelchair rugby, support the team or become a sponsor please get in touch with Mandip Sehmi by emailing msehmi@coventryrugby.co.uk.