Sherbourne Fields remains committed to their ongoing partnership with Coventry Rugby Club, and continues to be overwhelmed by the value the coaches bring to our curriculum, school and most importantly, to our pupils.
Our Rugby coaches provide excellent support not only for the delivery and development of the PE curriculum, but most importantly for our pupils in the wider areas of our curriculum. Coaches provide a range of differentiated sports clubs each lunchtime. These clubs not only promote the benefits of physical exercise, they also encourage great teamwork amongst all our pupils; including those who have previously found lunchtime clubs a challenge.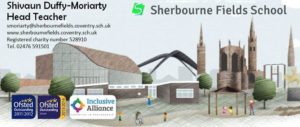 The development of our student's skills has been evident since our partnership first started with Coventry Rugby Club over 5 years ago. The encouragement, aspiration and positive attitude of the coaches has allowed more students to take part in physical activity. Our pupils have developed their capabilities through a range of exciting sporting activities more recently including Wheelchair Rugby. This particular sporting activity has given our pupils the confidence to push themselves a little further, aim a little higher and try new things, each time helping them to reach their full potential as individuals.
Many of the children who attend Sherbourne Fields have physical disabilities, complex health problems or barriers that make every day a challenge. Our Rugby coaches always highlight the importance of teamwork, respect and the enjoyment that physical exercise can bring. To have such positive role models in our school who can meet the needs of the hardest to reach children has a lasting positive influence. Rob and Sam's ability to coordinate activities that are accessible and enjoyable to all using these values at the core of their coaching has really enhanced and improved our pupils communication skills, self-esteem and confidence.
It is always difficult to capture in words the huge and varied benefits enjoyed by our school working with Coventry Rugby Club, however I hope I have been able to illustrate just some of the many benefits that we hope to continue to experience in the future.