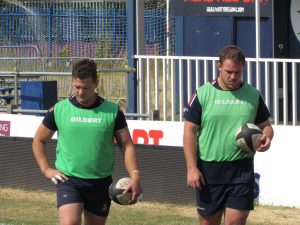 Coventry Rugby hooker Scott Tolmie admits he is looking forward to the Family Fun Day and Player Meet and Greet event at Butts Park Arena on Saturday.
The bulldozing front-row forward believes it will be a good day for all of those that attend and hopes the good weather will stick around.
He said: "It will be good, it'll be good to meet the fans again for the new season and there's a fair bit of excitement this year which is good.
"We as players definitely love the support we get so this is a good opportunity for them to come down and see how we have been getting on during pre-season before all the games start in a couple of weeks.
"There will be a fair few questions of what we expect this year to be like and how we think we are going to go. There will be a fair bit of buzz around the day especially if the nice weather can stay around and get more people out."
Tolmie touched down over the whitewash 19 times last season and the prolific front row admits that the fans' support is monumental and has pushed them through at times.
He continued: "It's huge. From last year and the year before, since I've been here the fans have been huge and that just helps us on the field, especially when times are tough, and we have to dig in.
"When you hear that noise in the crowd riling up, it's a massive thing for us so obviously the more people we can get down to enjoy the occasion and hopefully the more people we can get down to games and help us through the season."
The day will see fans have a live session with the players on the pitch whilst they train, a BBQ, and the long-awaited new kit will be launched to the fans at midday.
The 24-year-old admits he has seen a sneak preview of the kit and has already fallen in love with the new home shirt.
He added: "I have had a little sneak preview, I think it looks really good. It's a slight change from last year but it looks really smart, especially the home kit and I'm just looking forward to putting it on and getting out there this year."
https://youtu.be/fzwm7QlCn3c