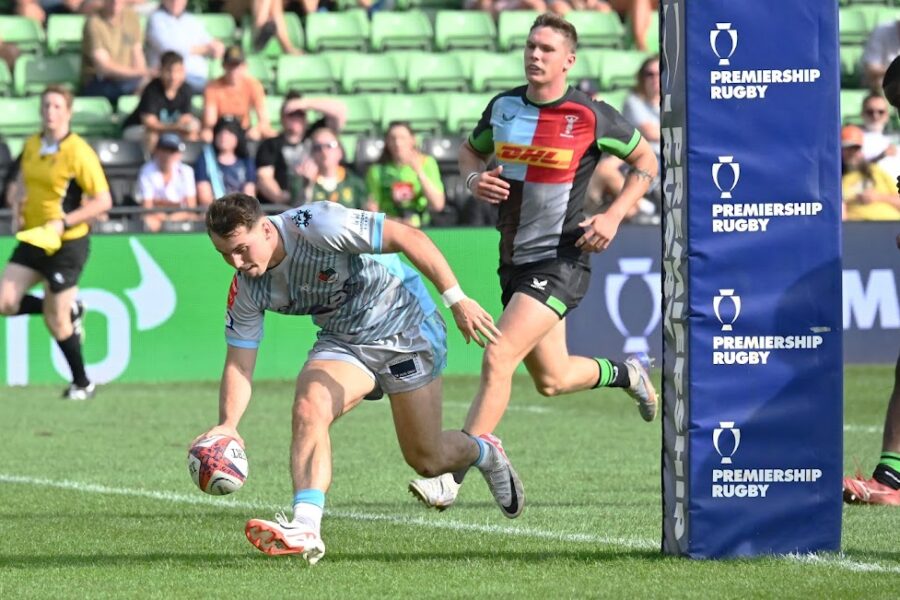 Despite Saturday's setback at Ampthill there have already been plenty of onfield highs for Coventry Rugby this season.
Three good displays against Premiership opposition in the newly-constituted cup competition certainly got the campaign off to a positive start while the first home league game brought an emphatic win over Caldy.
A number of individuals have contributed impressively – but it is summer signing Ryan Hutler who has grabbed the headlines by scoring no fewer than eight of his club's 29 tries to date.
The 25-year-old winger went through a testing spell during his early time with previous club Jersey Reds when confined to the sidelines for 16 months through a ruptured ACL then a bad hamstring injury.
But after bouncing back to play a full year in 2022/23, the former Leicester Tigers junior is seemingly now brimful of confidence at a club where he feels valued and has quickly become part of the furniture.
"It's been nice to be able to get on the end of things and score a few tries," he says modestly.
"I had a tough time with injury at Jersey so it's been good to come here, be backed by the management to play regularly and so far it's going well.
"I've always believed a happy player is a good player and Cov has a great player-led environment. That's nice because you can settle and be your own character.
"It really helps when you have the coaches backing you – that allows you to walk with your chest out and be confident at the weekend. This is a great place to play, the support is good and you can really feel it on the pitch."
Hutler's route into Championship rugby was provided by Bedford Blues who then sent him as a 19-year-old on loan to Bishop's Stortford where he was part of a squad that won the National Two South title.
He also did enough during his fledgling years at Goldington Road to catch the eye of then-Blues coach Alex Rae and Cov's boss had no hesitation in bringing Hutler to the Butts Park Arena a few years later when the opportunity arose.
"Ryan has topped the try-scoring chart in this league before and when I was at Bedford I knew him as someone that always scored tries," Rae recalls.
"When he went from Bedford to Jersey he was unfortunate with injuries and I know he felt the management there didn't give him enough starts.
"He's really hit the ground running since he arrived at Coventry and shown everyone what a natural try-scorer he is. What has also pleased us is how good his defence has been.
"Sometimes when you watch him in training you wouldn't predict how well he does on a Saturday – but he's a match player and a bit of a poacher who knows where the try-line is."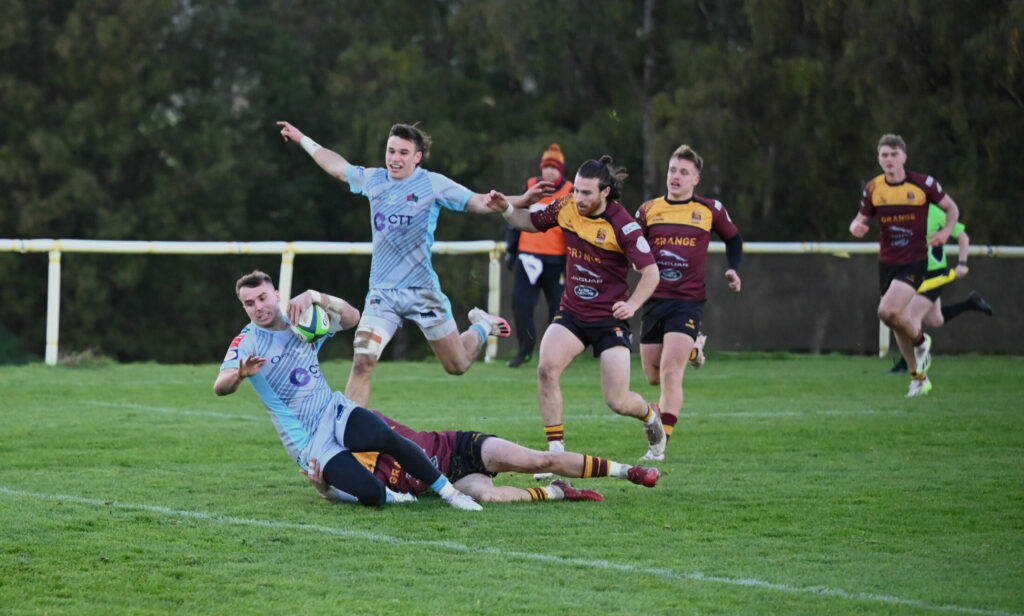 Picking up this thread, Hutler laughs nervously when asked if he is the Coventry version of recent England 'sniffers' Chris Ashton or Jack Nowell before joking: "You're putting me in good company there."
"I like to finish – I mould my game on getting tries for the team and I have the licence to roam and go looking for the ball.
"Obviously that can vary from game to game depending on whether I'm getting any joy in the wide channels since if it's going OK there then it makes sense to stay wide."
Hutler's latest Butts Park Arena score came courtesy of his brilliant sliding 'trap' of a Pat Pellegrini kick-pass against Caldy which he says rewarded training ground hours.
"We put a lot of time into practicing cross kicks so it was nice to get on the end of one of those," he says.
"Pat is an incredible player who sees space and has the ball on a string. It's really helpful to watch him play in training as it helps me read what might happen in a game."
Hutler is already half way to his best-ever seasonal tally of 16 tries, but given his recent experiences with injury is clearly unwilling to tempt fate about his prospects of improving this benchmark.
"If I can stay fit and healthy maybe I have a chance," is as far as he will commit himself – a sentiment many of the blue-and-white faithful will certainly echo.
Tickets for Coventry's next Championship home game against Doncaster on Saturday 18th November are available from: https://www.coventryrugby.co.uk/tickets/matchday-tickets/