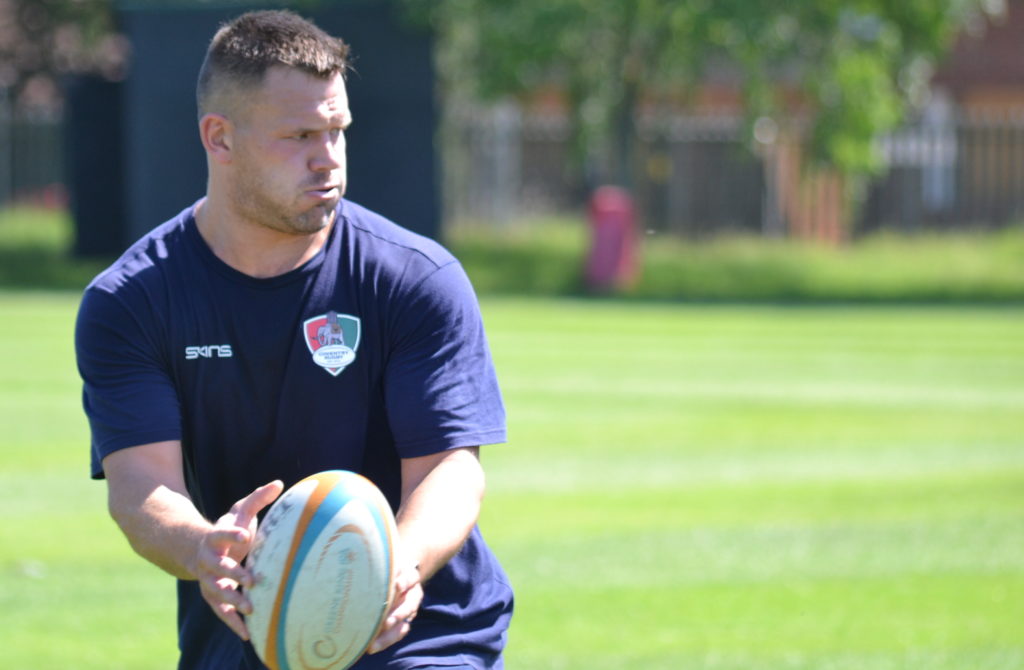 New recruit Ryan Burrows says he is enjoying his Coventry challenge this summer.
The 31-year-old back rower made the switch to Butts Park Arena from Newcastle Falcons ahead of the pre-season programme and is getting to grips with the intensity of the training sessions ahead of what he is predicting will be a tough and competitive Championship season.
"It's different with a lot more running and a bit less game-related training than I'm used to, but that's starting to come in slowly," he says.
Pre-season is always a time for optimism at any club, where players, staff and supporters alike are always looking ahead to a campaign which they believe can bring success and hopefully silverware.
But Burrows says that there are more reasons than most to be positive going into 2019/20.
"I've played in this league for a long time, and Rowland sold the vision of the club to me, where this club wants to go and where we're heading," he adds. "It's definitely a ride that I wanted to get on; I've not won anything in my rugby career, so why not do it at Coventry? There's such a buzz around the place, the new pitch going into place, and it's a fantastic opportunity for all of us.
"It's quite evident the kind of rugby we want to play, and the team showed snippets of it last year. We want to play wide, fast and expansive, and having that artificial pitch will mean we can do that, even in the depths of winter. There's one thing for certain, which is that the ball won't be muddy and the pitch won't be muddy! So there's no reason why we can't play an entertaining brand of rugby from the first game to the last game and score lots of tries while we're doing it."
Burrows is one of a number of experienced players who have joined the club, with Gareth Denman and Luke Wallace just two other new faces who have plenty of Premiership and European rugby under their belt. The Yorkshireman is hoping that this, along with the year's worth of understanding gained in the Championship last season, can help make the difference in the tight games.
"From having played against Coventry for Doncaster at the back end of last year I knew that I was going to be coming into a tight group and a well-drilled group," Burrows comments. "After speaking to Rowland I was aware that they needed maybe a bit more experience.
"There are going to be situations where the game is close and there are not many minutes to play, so we'll need to know what we're going to do next, not panicking and sticking to our structures. That's something we want to address as a squad and win more of those games.
"The Championship is going to be really tight and there are going to be a lot of good games. There are Newcastle, Ealing and ourselves, Cornish Pirates have recruited well, Bedford are always there or thereabouts. It's going to be a tough league and entertaining week in, week out, and it's a challenge to look forwards to."
2019/20 Season Tickets remain on general sale throughout the summer with standard prices frozen from last season! That means that adults can watch every scheduled home game from just £12.85 per game, while Cov Juniors members can see the whole season at Butts Park Arena for just £25! CLICK HERE for more details and book now by calling 02476 231001 or emailing jhill@coventryrugby.co.uk