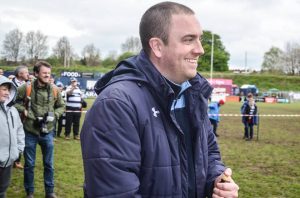 Coventry Rugby are overjoyed to announce that Director of Rugby Rowland Winter has signed a new long-term contract and will stay at Butts Park Arena until 2022.
The club has seen a transformation into a new era of club culture with a fully professional outlook across all aspects of the club since Winter's arrival.
Winter has now completely evolved his squad and support staff since joining and has added some exciting additions ahead of next season in the Greene King IPA Championship.
The 33-year-old has a remarkable record with the Blue and Whites, having won 47 times and drawing once from 60 games in charge since joining from Cambridge in June 2016.
The architect behind the title-winning operation this season has shared his delight at securing a new deal with the club.
He said: "I am really pleased with how far we have come and what we have achieved so far, but I am more excited about beginning the next challenge.
"This is a really exciting time for Coventry Rugby and for the whole City, and we are making great progress in every area on and off the pitch that is fuelled by our ambition."
Winter led Coventry to 27 wins during the 2017/18 season, winning the NCA Director of Rugby of the Year, and having secured the clubs promotion back into the Championship after an eight season wait in National League One.
With the clubs' positive movements, including new facilities for the medical and strength and conditioning teams, Club Chairman Jon Sharp added his excitement at Winter extending his deal with the club.
He said: "I am really pleased that Rowland has committed to us for the next stage of this journey. We started talking about this as soon as it became clear that we were going to get promoted.
"Having achieved that in the second year of the three-year plan that we had originally adopted, we decided that rather than proceed with a new three-year plan, we would roll over the final year onto his new one.
"This making a new four-year deal giving us a long-term vision, also matching important aspects of our financial planning.
"To cap it all, during this time we will be working against the incredible backdrop of European City of Sport 2019, Commonwealth games 2020 and UK City of Culture 2021.
"His contract extension will see Rowland with us for the whole period of that integrated plan.  I am fully confident that his exceptional organisational planning and foresight will see us achieve the reinstatement of Coventry Rugby as one of the leading clubs in this land, firmly established in the upper reaches of the Championship during the period of the plan."