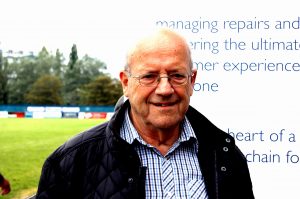 John Butler looks ahead to Saturday's visit to Rosslyn Park
THE squad, and indeed the loyal band of supporters, will be hoping for better things when Cov make another trip down to the South East this weekend.
The Rock at Rosslyn Park is the venue as Cov look for further improvements in their away form and fortunes.
Cov's hosts this Saturday have never actually played in Rosslyn Park. The club was founded some five years after Cov in 1879, when a group of cricketers decided they needed some activity during the winter months. Cricket was played in the grounds of Rosslyn House and when they formed the rugby club, it was linked to the same name.
Park played at a number of venues before finally ending up at their present base in Priory Lane, Roehampton in 1959. The venue has become famous over the years for the prestigious Rosslyn Park National Schools Sevens.
Turning the clock back some 12 months, both Rosslyn Park and Coventry had been predicted last season to be fighting out for the ultimate honour of promotion back to the Championship. History now tells us of course that never happened, as both our clubs are continuing the battle to make that giant step back.
Somewhat surprisingly, after finishing their season in a halfway spot just above Cov, Rosslyn Park began 2016/17 very poorly, losing their first four league matches before beating Darlington Mowden Park at home.
Since then, their season has seen a considerable upturn and as they usually do, they will provide formidable opposition when Cov travel down.
Park won an exciting and high scoring encounter away at Fylde last Saturday, and recently at home they have also recorded big wins over local rivals Blackheath and Esher. They are currently eighth in the table, two places below Coventry.
There are two players currently in the Park squad with former links to Butts Park.
Wing/centre Mark Kohler, although not in the side at Fylde, has been a regular again this season having joined from Plymouth Albion. Mark's one season with Cov was in 2013/14, when he made 30 appearances and ran in 10 tries.
More recently, back row forward Ed Milne was dual registered with Cov from Leicester in making 12 appearances, 11 of them in 2014/15 and the other one in the previous season. It was Ed's medical study commitments which largely kept him in London and ruled out any realistic chances of him staying.
The Rosslyn Park fixture is another of those which has been on Cov's list for some time, although it was a little less frequent in the 1980 and 90s. Since season 2010/11, however, we have met each campaign, and Coventry's record can at best be described as mixed. Last season Park gained the double, while two seasons ago, although they again won at the Butts Park, who from a Cov perspective can forget the pulsating last game of that season down at Roehampton when amazing late action brought a 50-45 win for Cov; indeed one can also recall Cov storming into an early lead approaching 30 points before all the late drama!
Overall in league rugby, the record shows Rosslyn Park with 12 wins and Coventry five with one match drawn.
With both sides displaying good recent form, Saturday's match has all the makings of being another of those to keep you on the edge of your seat – unless you prefer standing of course!
The Coventry squad will certainly need to display all the encouraging signs achieved against Cambridge if they are to improve the club's overall record at the Rock. Exciting prospects as the side look to keep in close touch with the top five.