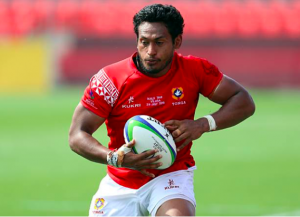 Coventry Rugby's backrow forward Jack Ram remains full of spirit despite falling to defeat with Tonga on the first day of the Sevens Rugby World Cup in San Francisco.
"It was tough to take yesterday. After our defeat there are a lot of positives that we can take from the game, but we have a lot to learn and if we can fix them we'll have a great game today," said Ram.
Tonga fell to a 19-7 defeat to Kenya in the Pre-Round of 16 but Ram feels that his side are good enough to make it to the Bowl Semi-Final where the reds could face either Zimbabwe or Uganda.
"Coming to this game we feel we can beat these guys," Ram continued.
"We have to take one game at a time. This tournament is a tough one, especially because the next match is a knock-out game.
"We came into this World Cup ranked as 24th in the world, we want to leave this tournament off and I believe we can make that happen.
"Our target is to get to the Bowl Final, it's going to be tough, but it is achievable."
With a Semi-final place at stake and the Tongans belief shy-high, Ram described what it is like to represent his country and where the red jersey of Tonga, especially in a World Cup.
He said: "I'm truly blessed and happy to be part of another World Cup, and to put on the Tongan jersey is an honour for me and my family back home.
"I'm pretty excited for this opportunity to do what I love and to play for Tonga, it means a lot to me because I'm not playing for myself but I'm playing for my family and for the entire country.
Ram added his excitement at returning to England to start his preparations for the Championship with Coventry after his business has finished at the Sevens Rugby World Cup.
He added: "I'm really looking forward to return to Coventry after this tournament and I'm really excited for the season ahead, it's going to be a tough year but I'm ready for it."