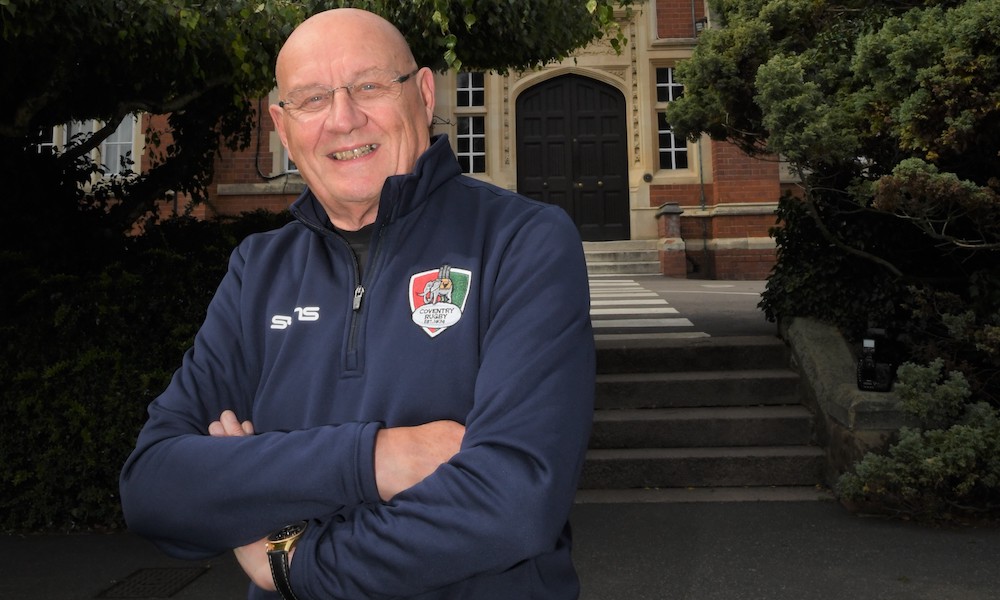 Coventry Rugby Executive Chairman Jon Sharp says that he cannot wait to welcome supporters back into Butts Park Arena for the final home game of the 2021 Greene King IPA Championship campaign.
Cov will host Saracens at 5:00pm on Saturday, May 22nd, for one of the biggest fixtures in the 17 years that the club has been playing at Butts Park.
Saracens need to win the game to maintain their push for the top two, while Cov – who were competitive against the Londoners for long periods of both the pre-season friendlies – will be looking to make their mark against a team which could very well include Sarries' five British and Irish Lions tourists.
But more than this, says Sharp, is the prospect of having supporters in the stands when the teams head to the field.
As with every other club in the country, Cov's games this season have been played out in front of swathes of empty seats, but this will change with the ticket information news announced by the club earlier today (Thurs 13/05/21) – CLICK HERE to read more.
"It wouldn't be out of place for me to say that anyone who has been in stadiums this year has had a bitter-sweet experience," he says. "On the one hand, those of us who hold official roles have been very lucky and privileged to be able to watch matches in person. But it has also been a bit soulless – stadiums need people as their lifeblood and who provide the atmosphere and banter that makes the match day so enjoyable.
"So we're delighted to be able to welcome supporters back to the club, especially for the visit of Saracens, who are one of the most successful clubs in Europe over the past decade.
"It goes without saying that it will be an opportunity for our lads to test themselves against some of the very best, and there won't be any question about their motivation.
"I'd like to thank Nick Johnston and all the commercial team for the time and effort that they have put into getting us into the position where we can host supporters. The announcement about the ticket booking and matchday processes gives supporters a flavour of the exhaustive protocols and systems which we are having to put in place in the face of often conflicting regulations and advice, and following hours and hours of meetings with RFU, local and government officials.
"The costs which we are obliged to incur in order to open our doors are eye-watering and come on top of the additional costs such as Covid testing that we have already suffered during the past 12 months, a time when we have foregone some £2 million in revenues.  However, whether the day shows a profit or not, just to get supporters back into the stadium is worth it all.
"On behalf of the commercial team, please read the instructions carefully and follow them to the letter.  I am afraid that the freedom you have previously enjoyed at Butts Park over the last 17 years will not bear much relevance to how the match day will be running on May 22nd. All of our supporters have been very patient, and I thank them for that, and hopefully we will have a great afternoon!"