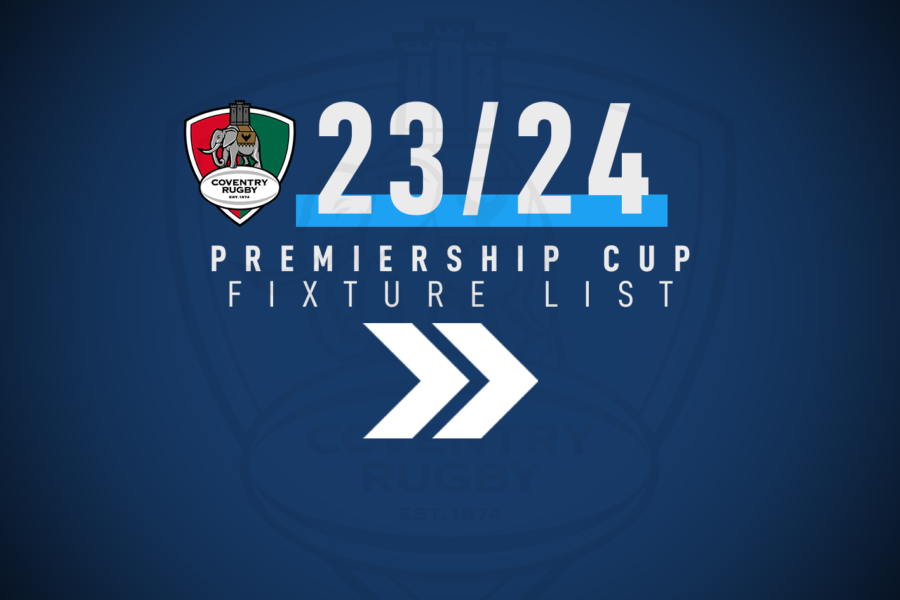 With the introduction of Championship sides into the Premiership Cup, this unprecedented fixture announcement creates a fantastic opportunity for Coventry Rugby to go against the very top of English rugby.
When the RFU confirmed Championship sides would be added to the Premiership Cup it sent a wave of excitement across the leagues, and we have patiently waited in anticipation of finding out who Coventry Rugby will face.
However, the wait is finally over, and Coventry Rugby is thrilled to be able to announce that the champions of English Rugby, Saracens, will be coming to the BPA for the first game of our Premiership Cup campaign!
The team then travels to the Twickenham Stoop to face the attacking flair of Harlequins. Then it's a trip down to Gloucestershire to see some familiar faces in Hartpury RFC, before welcoming Nottingham back to the Butts Park Arena. Finally, the last game of our group is a special one with the chance for Coventry Rugby to experience the famous atmosphere of the Kingsholm Stadium as the players go head-to-head with Gloucester Rugby and 'The Shed'.
"It's really exciting to be talking about a Premiership and Championship crossover competition" Head Coach, Alex Rae said.
"We really want to test ourselves against the best, so this is a really good opportunity for us. Also for the fans, to experience games against Premiership opposition is exactly what we want to be doing as a club."
"Saracens first up at home is a brilliant fixture – the Premiership Champions coming to town is a chance for our lads to test themselves against the very best around."
Make sure to grab your Season Membership for the 2023/24 season to be part of what will hopefully be a fantastic Cup run against some absolute giants of English rugby.
Get your 2023/24 Season Membership here.
Competing in Pool A of the competition, Coventry Rugby's fixtures will be as follows:
Sat 09.09.23 | Coventry vs Saracens | 4pm KO
Sat 16.09.23 | Harlequins vs Coventry | 3pm KO
Sat 23.09.23 | Hartpury vs Coventry | 2.30pm KO
Sat 30.09.23 | Coventry vs Nottingham | 4pm KO
Sat 07.10.23 | Gloucester vs Coventry | 1pm
Premiership Rugby Cup info
The 22 teams are split into four seeded pools – two of six teams (Pool A & Pool B), two of five teams (Pool C & Pool D) – with the seedings based on league standings at the end of the 2022-23 season*.
The teams in Pools C and D will play one cross-pool fixture alongside their own pool games.
For the competition format, pools and the full list of fixtures, please visit here.
*The Championship club seeded 11, London Scottish, and seed 12 Cambridge who were promoted from National One were swapped with Nottingham and Caldy, seeded 9 and 10. The higher seeds therefore host a home fixture against a Premiership club.
Leicester Tigers and Exeter Chiefs also swap pools for operational reasons.