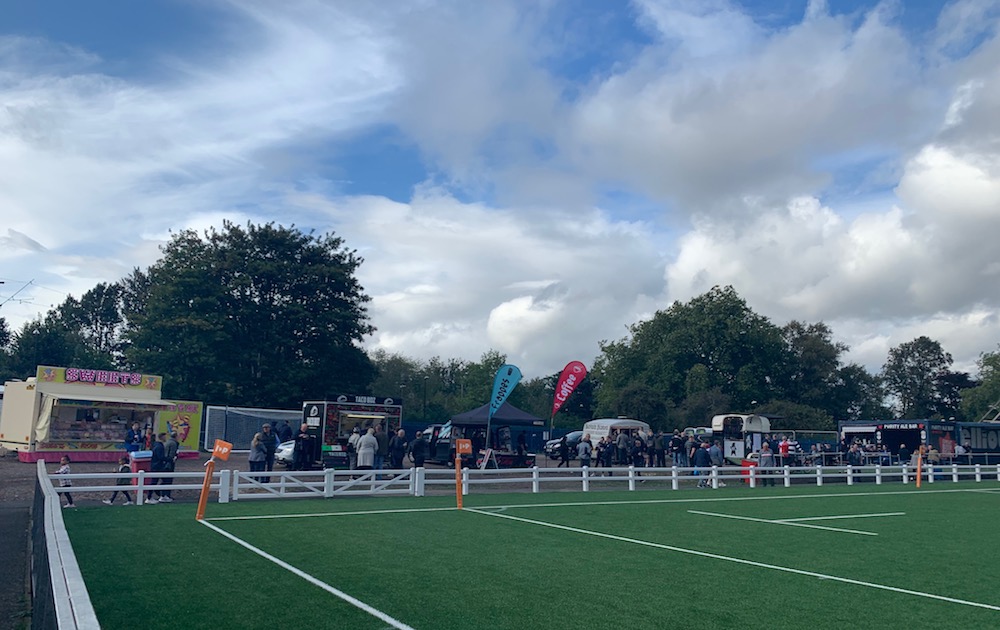 There has been plenty of positive feedback to the changes which have been introduced at Butts Park Arena on match days.
Saturday's Championship Cup match against Bedford did not just see the official opening of the new pitch by Executive Chairman Jon Sharp and George Duggan, leader of Coventry City Council, but also a wide range of initiatives aimed at making a visit to Coventry Rugby the leading experience within the Green King IPA Championship.
The railway end is now dominated by a new Club Store and hospitality marquee, with a supporter village now filling the space on the standing side featuring a range of food and drink outlets.
Meanwhile the new online booking system helped bring more advance sales than the vast majority of games last season, and an attendance higher than any Championship Cup match in 2019/20. Indeed the 2,042 at Butts Park Arena on Saturday was exactly the same attendance as the day's other four ties combined.
Comments made by supporters include:
'The club shop set up is excellent, especially the two changing rooms. Even a sloped entrance to one of the doors. Superb.'
'A 1st class match day programme yesterday. As a regular programme buyer it was probably the best ever produced by Cov.'
'The new marquee is a particularly impressive addition to the 'around the ground' facilities.'
'Having been there since 1210, I didn't stay post match. But from what I did see around food and drink things have improved'
Managing Director Nick Johnston welcomed the comments and said that they reflect the hard work put in by the off-field team at the club. But he also said that the Coventry Rugby management was not going to be resting on its laurels going forward.
"We're delighted to see the positive comments online, and to have had many people talk to us in person on Saturday as well," he said.
"The off-field team has been putting in a massive amount of work during the summer across all areas of the business. We do not have a large number of people, and everyone has pitched in to help each other to get us to the positive place where we are today. I'm very grateful for their effort and dedication.
"We know that this is just the beginning and we will be seeking continual improvement to make sure that we have the best match day experience in the Championship. We know that change can be hard, and everything that we are doing is being done with the best intentions.
"We are also open to constructive suggestions as to what we can do better going forward and what we have done well. This is an ongoing process and we're looking forward to a positive future."
Coventry Rugby are back at Butts Park Arena on Friday night, hosting Championship Cup holders Ealing Trailfinders in the third round of the competition. Tickets remain on sale by CLICKING HERE – book online to make the most of advance savings and use Print@Home etickets to beat the match day queues.