John Butler looks ahead to Plymouth's visit to Butts Park on Saturday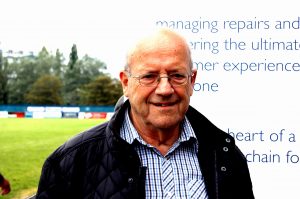 WITH both sides having good results last weekend, the visit of Plymouth Albion promises to be a very competitive, exciting affair.
The Plymouth Albion club was formed just a little after Cov in 1876. Your writer unfortunately has no way of checking whether or not any fixtures were played in the formative years, or even the 1900's; one suspects not, but more on the background between our clubs later.
Plymouth's facilities these days are based to the south of the town in Devonport at the Brickfields, which was developed some seasons back. Previously they were at Beacon Park.
Last season was a difficult one for Albion. With new owners coming in, the club was placed into administration and the consequent loss of 30 points left them in eighth position in the final table.
A name long associated with Plymouth rugby, their former England hooker Graham Dawe left the club. The squad is now under head coach Dan Parkes, who joined the club one understands from Brixham.
There was a pretty high turnover of players at the Brickfields during the close season, one of those joining being player/backs coach and fly-half Kieran Hallett, currently with 68 points from his boot following a 15 -point haul last week in an emphatic 39-3 home win over Darlington Mowden Park to put them fourth in the table.
It was also a milestone for hooker Rupert Freestone, who made his 50th club appearance as well as running in two tries. Back row forward/lock Dan Williams, recruited from Torquay Athletic, is currently top try scorer with four.
It was quite an interesting challenge putting together the up to date research concerning fixtures between Cov and Albion.
As mentioned earlier, there is no history available for any meetings before the Second World War, but, in season 1950/51 there is certainly evidence and it dates back to the days of the good old Easter tours!
That season Cov played Rugby Lions at home on the Saturday, then they travelled and drew with Exeter on the Monday, before beating Albion 5-3 on the Tuesday. Sounds a close one!
Fixtures between us have only become more frequent since 2003. Prior to that, Cov won a John Player Cup game in Devon in 1984/85 before losing one at home four years later.
With league rugby now on the calendar, the first meeting at that level in the old style Division Two came in 1989/90 and was followed by three more in the next years, plus a club match.
Fast forward now to 2002/03 and that saw league meetings without a gap for seven seasons. That only ended with our relegation out of the Championship, with the renewal of rivalries last season.
Putting it all together, a count reveals Cov and Albion have met 21 times and it could not be closer, each club having won 10 times with one match drawn. Last season ended honours even, Cov winning 26-19 here before losing the return 29-18.