Coventry 17
Rotherham Titans 25
ANOTHER narrow defeat against Championship opposition for Coventry who, as in Jersey two weeks earlier, were left to reflect on what might have been.
Cov led 14-10 at half-time, asking questions of the Titans scrum and growing in confidence as the half progressed.
But Titans generally controlled the second period and turned the game their way with Cov still on top in the set scrum but misfiring in the line-out and guilty of kicking away too much possession.
Caolan Ryan kicked an opening penalty for Titans after an even first 16 minutes, but four minutes later Cov went in front for the first time when, from a penalty into the left corner and line-out, a driving maul was pulled down on the line and a penalty try awarded.
Titans capitalised on a line-out error to go back in front on 27 minutes, moving the stolen ball infield for Yiannis Loizias to cross between the posts with Ryan converting, but Cov finished the half on top and another line-out drive, after a yellow card for Tom Burns, ended in a try for Phil Nilsen with Will Maisey, who minutes earlier had hit the post with a penalty, adding the conversion for 14-10.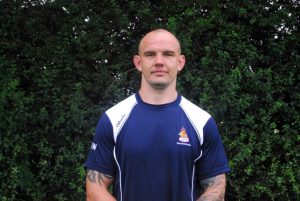 Phil Nilsen
The second half started poorly for Cov, scrum-half Rhodri Davies picking up at a ruck 30 metres out and racing through  a gap to go clear for an unconverted try to restore the advantage to Titans.
An exchange of penalties followed between Maisey and Lee Miller before Titans turned the screw in the final quarter and, with Cov unable to establish any attacking platform and James Stokes in the sin bin for a high tackle, sealed victory with a close-range try from Ifereimi Boladau which Miller converted.
Coventry: tries penalty try (20), Nilsen (34); conversion Maisey (35); penalty Maisey (48). Rotherham: Loizias (27), Davies (44), Boladau (79); conversions Ryan (28), Miller (80); penalties Ryan (16), Miller (55).
Coventry: Fenner; Stokes (Asiedu 25), Grove, Stevens Tuitupou h-t), Knox (Stokes h-t); Maisey, White (Brazier 48); Brown (Boulton 55), Tolmie (Nilsen 30, Oghre 72), Boulton (Litchfield 30), Gray, Oram (Makaafi 48, Preece 71), Makaafi (Daynes h-t), Preece (Povoas 48), Narraway.
Rotherham: Loizias; Cooke, Cheshire, Peters, Henry; Ryan, Vieira; Tom Williams, Murphy, Foster, Postlethwaite, Louw, Burns, Grange, Boladau. Replacements: Cole, Maddison, Opedo, Toby Williams, Shields, Hodge, Lasis, Borrowdale, Calladine, Barker, Millar, Thomas, Hamilton, Davies.
Coventry Development 52
Newbold-on-Avon 38
BEHIND twice in the first half, Coventry Development overcame a stiff challenge from Newbold's pack to chalk up an eight-try win and continue their impressive start.
Newbold held a definite edge in the set scrum, but Cov's all-round pace and handling proved the deciding factor over an entertaining 80 minutes.
The visitors claimed the opening try, Phil Reed chasing down a well-judged chip from Dan O'Brien, and after tries from Matt Price and Nathanael Titchard-jones, both converted by Ben Palmer, put Cov in front, Ben Dawes crashed over for Newbold's second try with O'Brien converting and adding a penalty for a 17-14 lead after 32 minutes.
The rest of the half belonged to Cov as tries from Louis Roach, Connor Adams, and Tom Price, two converted by Palmer, swept them into a 33-17 lead at the break.
The second half started with an exchange of tries between Stuey Houghton, converted by O'Brien, and Max Titchener before further scores from Roach and Joe Lane in the space of three minutes, Palmer converting both, gave the hosts a healthy 52-24 advantage.
Newbold finished strongly, however, and were rewarded with a forwards try and a second for Reed, both converted by O'Brien to complete a fine performance by the No.10.
Coventry: tries Roach 2 (33, 57), M Price (17), Titchard-jones (20), Adams (36), T Price (39), Titchener (45), Lane (60); conversions Palmer 6 (18, 20, 37, 40, 58, 60). Newbold: tries Read 2 (11, 78), Dawes (31), Houghton (43), Walton (75); conversions O'Brien 5 (12, 32, 44, 76, 80); penalty O'Brien (23).
Coventry: Hodgson; Roach, Lane (Titchener 73), Wheatcroft, Titchener (Grimmer 68); Palmer, Adams; Titchard-jones (Byrne 60), M Price (Priestley 23, M Price 32, Robinson 68), Clark (Ackuaku 28), Hutchinson, Jubb (Hibbs h-t), T Price, McNulty, Setu (Priestley 61).
Newbold: Powell; Lightowler, Reed, Warner, Campbell; O'Brien, George; Allen, Houghton, Dawes, Thomson, Walton, Henry, Treherne, Facer. Replacements: Ziba, Nuttall, Pails, Smith.