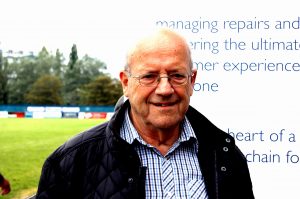 by John Butler
COVENTRY were pushed all the way to ensure they maintained their unbeaten record at a very wet Woollams.
The performance overall lacked the control, discipline and fluidity of seven days earlier with Old Albanian, from the outset, proving they were well up for the encounter.
The hosts, fielding it is believed seven players from the Saracens academy, displayed a very firm commitment. Their forwards in the first half certainly posed many questions, notably in the set scrums and other tight areas of play.
With an experienced bench, Cov were able to nullify some of those areas the longer the game progressed and late on it was very noticeable the Blue & Whites had the edge in forward exchanges.
The match overall, though, should spell out a firm warning message, if not known already, that many opponents, particularly on their own ground, will view their game with Cov, fancied for honours by many, as a potential cup final. This game certainly fell into that category.
Coventry could certainly have helped their own cause with better discipline as referee Daniel Collins penalised Cov some 15 times.
The lead was destined to change sides four times during a not particularly flowing encounter, played in unpleasant wet conditions.
Cov really should have been a try to the good inside the first minute after the hosts made a mess of  the initial kick off. Several passages of quick play saw possession moved left, only for Cov to be held up on the line and then penalised for not releasing.
OAs soon showed their intention at the first scrum, pressure rewarding them with a penalty, before Cov went ahead on nine minutes. A short, sharp pass from Sam Tuitupou put Heath Stevens clean through, the captain of the day striding though, for Will Maisey to add the extras.
Old Albanian however were soon level. A long kick saw James Stokes under pressure and from the resultant penalty, OAs freed hooker Tadgh McElroy for the try, well converted by centre Dan Watt.
The Hertfordshire side were certainly showing they were well up for a battle, Cov conceding another penalty following a rather unnecessary push from Tuitupou. Indeed, at this point, Cov had conceded five penalties in 19 minutes.
On 22 minutes, the accurate boot of Watt put his side 10-7 up and with Cov already making front row changes in an attempt to counter their opponents, the first real effective line-out drive from the Cov forwards then saw possession moved right, allowing Rob Knox in from the left to plough his way through some rather ineffective tackling for try number two. The Maisey conversion edged Cov back in front at 14-10.
Home flanker Jono Midghall received yellow for taking out George Oram in the air, Coventry though not adding to their account whilst their hosts were a man short.
Stokes picked up a painful looking leg injury, Ben Palmer replacing him against his former club, and although Kwaku Asiedu on the right , with limited opportunities, showed elusive powers, the only other score of the half however came with OAs back to 15 men and eight minutes into added-on time when Watt landed another penalty, this time from 46 metres, to cut the deficit to one point at half time.
Early in the second half, with Cov penalised again, Watt was on the mark from much shorter range to push his side back in front at 16-14 with Cov continuing to ring the changes by bringing on the experience of Pete White and Luke Narraway.
With Old Albanian themselves penalised, on 62 minutes, Will Maisey pushed them back into their 22, but sold defence kept Cov out as a drive to the line was held up.
With rain again falling and the wind seemingly increasing against Cov, pressure finally told when inter-passing to the right left Maisey to cross for his first try of the season, which he improved with an excellent conversion.
The third try and conversion were to prove to be Coventry's last scores in a very tight game.
Four minutes later another fine penalty kick from Watt, this time from 39 metres, cut the margin again to two points and after another penalty and a yellow card to Stevens for a high tackle, there followed a rather confusing sequence of events.
OA seemed initially to have elected to take the scrum where the ball had landed, only then for the penalty to be taken back at where the offence took place. From 35 metres out, Watt had the opportunity to land what might have been the winning points, only to see his effort drift wide and Cov could  breathe again.
Stokes returned briefly, but departed quickly with his leg injury clearly troubling him, with Stevens also returning after his spell on the sidelines.
By now the Coventry forwards had exerted some command, winning several penalties to ease pressure, and right at the death it was Cov who might have scored again, an effective driving line-out thwarted following a knock on.
The home side, even in defeat, were clearly delighted with their efforts while for Cov it was a bonus point dropped, plus a place to second in the National League One table. At the end of the day, however, it was a very hard-earned win for which they had been forced to really battle all the way.
Old Albanian: try McElroy (12); conversion Watt (13); penalties Watt 4 (22, 40, 45, 59). Coventry: tries Stevens (9), Knox (28), Maisey (55); conversions Maisey 3.
Old Albanian: Obatynibo; Holdsworth, White, Watt, Dowsett; Bradford, Thompson (Parsons 70); Hughes (Reed 77), McElroy (Walliker 68), Walker, Whittaker, Cutmore (Bond 68), Hartwell, Midghall, Lunnon.
Coventry: Stokes (Palmer 36, Stokes 67, Palmer 75); Asiedu, Stevens, Tuitupou, Knox; Maisey, Brazier (White 45); Brown (Litchfield 55), Tolmie (Nilsen 22), Litchfield (Boulton 22), Dacres, Oram, Daynes, Povoas, Setu (Narrway 45).
Referee: Daniel Collins.